ITMA-Asia + CITME-2014
2014-05-14
Itema exhibits latest and revolutionary innovations in airjet and rapier weaving technology

Itema will present a brand new concept with their A9500 airjet rapier weaving machine at ITMA Asia + CITME (c) 2014 Itema
Itema S.p.A, leading global provider of advanced weaving solutions, including best-in-class weaving machines, spare parts and services, is counting down to ITMA ASIA+CITME 2014, one of the biggest textile fairs in the world, taking place in Shanghai, from June 16th-20th. During the expo, Itema will proudly unveil the latest advancements in weaving technology, both in airjet and rapier machines, to allow Customers to produce high quality fabrics and achieve higher levels of success.
Itema (Hall E2 / Booth C01) will exhibit 10 weaving machines in total, 6 in their own booth (Hall E2 Booth C01) and 4 with Jacquard applications in partners' booths (Stäubli, Bonas, Grosse and Song & Song).
The Italian privately held multinational company closed 2013 with stellar results and a +50% YOY increase in weaving machines turnover and, encouragingly, the growth is still continuing into 2014. Itema is the only manufacturer in the world to provide all three weft insertion technologies: rapier, airjet and projectile, with an ample product portfolio and a strong commitment to continuous innovation.
The Company is present in China since 2003 with sales and after-sales teams, assembly and technical support with a mission to ensure the highest possible standard of weaving solutions and a complete product and service offering. China is one of the most important markets for Itema and a country with a strong potential for continued growth, reason for which the Company launched new and improved corporate offices and assembly plant in Shanghai on March 6th, 2014.
Outside China, Itema is dedicated to growing our reach and presence also in the Indian Subcontinent, with the latest appointment of a new Managing Director of Itema Weaving India Pvt. Ltd, Updeep Singh, who joins Itema with broad experience as a senior executive leader in the Indian textile industry, most recently, the role of Chief Operating Officer at NSL Textiles Ltd., as well as leadership positions in Welspun India – Asia's largest terry towel manufacturer.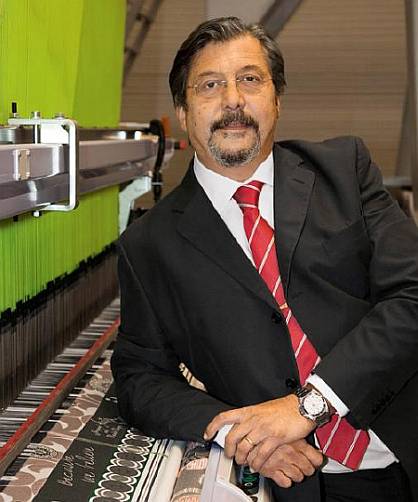 Pic: Itema Ceo Carlo Rogora
"We view ITMA ASIA as an important platform to showcase our latest technological advancements," said Carlo Rogora, CEO of Itema. "We are probably the only company in the textile manufacturing industry that boasts not one, but two R&D departments. Itema recently launched the ItemaLab, our advanced research incubator, with the mission to design the weaving machine of the future. We are immensely proud of our accomplishments and are confident that also our Customers will appreciate the innovations of our weaving machines."

Fulvio Carlo Toma, Group Sales & Marketing Director of Itema comments: "With nearly two centuries of experience, Itema has always had a rich history of developing the best technology for the weaving industry. Now, with the recent changes within the management, Itema endeavors to achieve the global leadership position within the next few years."
Technology highlights on show
Itema's ITMA ASIA booth offers the best highlights of the Company' latest technological advancements and reliable timely service.
Itema Rapier Machines on Show
Itema will display the R9500 rapier weaving machine, the 2013 best-seller, which, at just one year from launch, represents one-third of Itema's revenue from weaving machines. The R9500 will be available weaving a Technical style. The newest R9000 rapier, also on display at ITMA ASIA and weaving a Shirting style, is designed for easy use and provides the best balance between cost and perk. Other rapier weaving machines carrying the Itema brand and on show in Shanghai are the R880DT with Jacquard weaving Terry cloth.
Itema will show several rapier machines in partners' booths, of which two R9500, one with Bonas Jacquard for the Furnishing and Tapestry segment and another with Stäubli Jacquard for the Fancy Automotive segment. Two other rapier machines on display in partner booths are R9000, one with Grosse Jacquard weaving an Upholstery style, and another with Song & Song Jacquard weaving Furnishing style.
Itema Airjet Machines: "Innovation on Display"
As with the Rapier preview above, Itema says that they are equally excited to demonstrate the innovation and performance of their airjet machine – the A9500. In the words of CEO Carlo Rogora: "We can't wait! Itema has prepared the machines with challenging applications to illustrate unprecedented performance in speed, diversification and energy consumption. Saving the details for the show, Itema will present a brand new concept that leaves the competition behind. ITMA Asia provides the perfect venue to validate the dedicated efforts of Itema's Research & Development Engineers."
Visitors who a looking for a brand new and dynamically different experience in airjet weaving, should join the Itema stand in Hall E2, Booth number C01!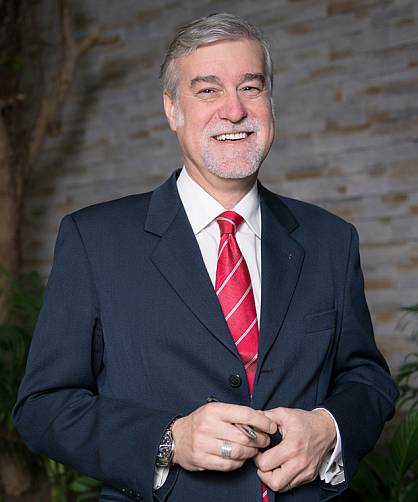 Pic: Itema Group Sales & Marketing Director Fulvio Carlo Toma
Related News
Latest News ITMA-Asia + CITME-2014
More News from ITEMA S.p.A.

Latest News