ITMA-Asia + CITME-2014
2014-04-08
Stäubli at ITMA Asia 2014

SX Jacquard machine (c) 2014 Stäubli
At its booth E01 in Hall E2, Stäubli will be showing a selection of its most modern products from its extensive range of textile machinery. This includes cam motions, dobbies, and electronic Jacquard machines with harnesses as well as weaving preparation systems with automatic warp drawing in, leasing, and warp-tying machines.
At the same booth Group member Schönherr is presenting exclusive carpet samples from its latest collection, some with the recently developed "Magic Weft Effect 3" and others with the"Magic Shadow Effect", produced on ALPHA 400 and 500 carpet-weaving machines.
Additionally, Group member DEIMO (Hall E5 / Booth C11) will exhibit state-of-the-art electronic drives and control solutions mainly for textile machines.
Products to be seen at the booths are:
Jacquard machines
Four complete Jacquard installations on weaving machines will be demonstrated at the large 625 m2 two-level Stäubli stand in Hall E2.
As a world premier, visitors can see the production of lining fabric on a Jacquard machine type SX equipped with a specific harness with 12,600 cords, in conjunction with a water-jet weaving machine operating at a rate of approximately 1,000 weft insertions per minute. The weaving machine and the Jacquard machine are both operated by individual electronically synchronized drives, which is the special feature of this set-up.
The second installation is equipped with a type LX3202 Jacquard machine with 12,288 hooks and Stäubli harness weaving tapestry and upholstery fabric on a 180 cm wide rapier weaving machine.
The third installation consists of a rapier weaving machine and a type SX Jacquard machine with a Stäubli harness of 13,450 cords producing 220 cm wide car seat fabric.
And the fourth is a type SX electronic Jacquard machine with 2,688 hooks and Stäubli harness of 6,000 cords weaving car seat fabric 190 cm in width on an air-jet weaving machine operating at approximately 1,000 weft insertions per minute.
As usual, the Stäubli booth is constructed with two stories. From the upper level, visitors can have a detailed look at the Jacquard units in operation with these four machines. At a special demonstration stand the full range of Stäubli harness types will be shown with a type DX Jacquard machine including harness for any standard application.
At another demonstration stand the LX32 type Jacquard machine for weaving narrow fabrics such as ribbons and labels will be shown with 192 hooks and harness with 4 repeats.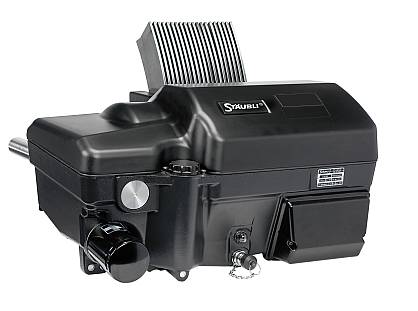 Pic: S3060 electronic rotary dobby
Dobbies and cam motions
The third generation of Stäubli's rotary dobbies, the S3060/3260 series, is to be seen with many application examples at the Stäubli stand and at those of many weaving machine manufacturers. This new generation of rotary dobbies reaches new heights of performance and reliability.
To complete the picture of Stäubli shedding systems, the refined positive cam motion type 1681 and the universal positive rotary dobby type 2658 are being demonstrated at the booth.

Weaving preparation systems
The mobile automatic drawing-in machine SAFIR S30, already a dependable workhorse in many filament mills in China and the Far East, can be seen in operation at the Stäubli booth.
The warp-tying process will be demonstrated with two warp-tying machines: MAGMA for technical and coarser yarn counts and the proven TOPMATIC for standard applications, handling even the finest yarns. The warp leasing process for warps that require a lease for further processing can be seen on the OPAL multilayer leasing machine, which inserts a 1:1 lease in warps with up to 8 layers, including colour detection.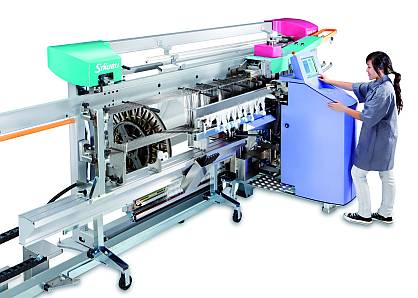 Pic: SAFIR S30 drawing-in machine

DEIMO
Stäubli Group member DEIMO is showing servo motors, electronic control solutions, input/output devices, and related programming tools at its booth C11 in Hall E5.
All visitors are cordially invited to inspect the above-mentioned product highlights at the Stäubli booth and to discuss their needs and expectations with Stäubli specialists. Additional examples of Stäubli products can be seen during ITMA Asia at various stands of Stäubli partners in numerous applications with Jacquard machines, dobbies, and cam motions.
Related News
Latest News ITMA-Asia + CITME-2014
More News from Stäubli AG

Latest News