ITM 2018
2017-10-26
Mobile app released for ITM 2018
The mobile application of ITM 2018 Exhibition, the most important organization of its region in the field of textile machineries sector, has been released.
Thanks to the app, which attracts attention with its design, functionality and multi-language support, the participants and visitors will able to carry all the exhibition in their pockets from exhibition layout and participant lists to the news and announcements.
The app also supports online invitation requests and application forms for participation. Users can even find their way to/in the exhibition area with the help of built-in navigation support. Besides all of these, Instagram support is among the features offered by the app.

IOS and Android users can download the app from App Store and Google Play by typing ITM 2018 in the search box.
ITM 2018, organizing by Teknik Fairs and Tüyap with the collaboration of TEMSAD, will be held in Istanbul Tüyap Fair and Congress Center between April 14-17, 2018.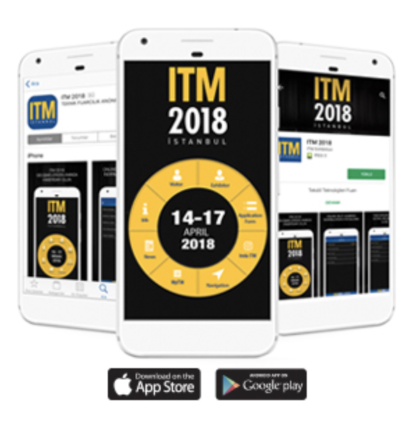 The new mobile app for ITM 2018 (c) ITM
The Key Features:
Multi-Language Support (Turkish, English, German, Italian and Chinese)
News and Updates
Social Media
Navigation
Online Invitation
Application Form
Exhibition Layout Plan
Exhibitor Lists
Related News
More News from TEKNIK FUARCILIK INC.

Latest News