ITM 2016
2016-05-10
SANTEX RIMAR GROUP is focused on market needs
SANTEX RIMAR GROUP is one of the leading players in the world market of machine manufacturers for weaving, textile finishing, nonwovens, technical textiles and green technologies for water treatment and drying processes. At Istanbul and ITM the SANTEX RIMAR GROUP will present a wide range of its current solutions based on a strong strategy focused on market needs.
"Turkey demands high technology standards and cost control, high productivity and quality. We are very strong in this: Santex Rimar Group and its brands in weaving, textile finishing and technical textile are putting a lot of effort in this high-end market" - says Stefano Gallucci, Group CEO.
"We want to help our customers to achieve their goals: our success is their success. We do this with a full vision on our customers' business, from looms to finishing, to impregnation or to coating. No other industrial machine manufacturer can claim the same".
Sperotto Rimar has new solutions for decatizing wool and artificial fibers, a "must have" in Europe as well as in Asia: the new Decofast 3.5 will be present at ITM 2016. Moreover, as a result of a successful partnership on the development of plasma to reduce textile production costs, it is presenting Plana for long lasting anti-shrinkage effect on woollen fibers and deyeability without chemicals.
Textile machinery brands have three goals: processes for man-made fibers, greentech, flexibility. Santex is focused on Shrink Dryers for knitted fabrics and on the new Santacompact RD, an evolution of the compacting machine.
The Technical Textile division has delivered impregnation lines for aerospace and insulation material: the new Cavimelt P+P is the latest solution under Cavitec brand for coating and laminating while Isotex is working on an exclusive partnership with Covestro, former Bayer, on water based solvent free synthetic leather.
As a technology partner for knitted, woven fabrics, nonwovens and green solutions the Group started as different companies that in 2015 have evolved into SANTEX RIMAR GOUP.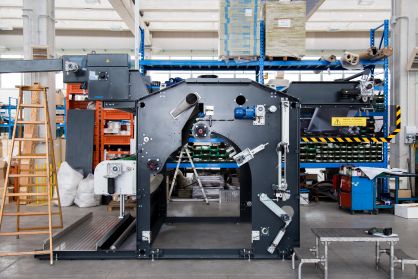 Pic: Sperotto Rimar Decofast 3.5
Cavitec and Isotex lead the technical textiles machinery market in their sectors; Santex and Sperotto Rimar produce machines for textile finishing; Solwa provides eco-friendly machinery for water treatment, food dehydration, agribusiness sector and industrial waste management. With the entrance of SMIT the Group has recently become a solution provider also in the weaving sector.
In 2014 SANTEX RIMAR GOUP invested in a complete new technology of a product line of sustainability: Solwa is a startup company specialist in the water treatment sector (human and agricultural needs) and dehydration processes, using renewable technologies that gave the new Greentech line great vitality in Southern America and Asia.
Related News
More News from Santex Rimar Group

Latest News