ITM 2013
2013-05-15
FONG'S presents One-stop strategy at the ITM

FONGs Jumbotec from Tec series (c) 2013 FONGs
With the high quality machines from FONG'S, GOLLER and THEN the customers will benefit not only from a huge portfolio, but also from the biggest experience in the field of textile machines.
FONG'S is the biggest supplier of dyeing machines worldwide. The strong brands FONG'S, GOLLER and THEN have an excellent reputation in the field of dyeing and finishing equipment. Innovation is the key for success for the global textile manufacturer. Latest example: the TEC series of FONG'S, which is providing a new dimension of low liquor ratio for hydraulic dyeing machines in the market. The results of the new TEC series can only be beaten by the THEN AIRFLOW® technology, until today the most efficient way to safe water, energy and time in discontinuous dyeing. For the continuous open width treatment GOLLER provides individual solutions for all the different needs in woven and knit goods treatment.
With the SINTENSA concept, the German brand offers not only high efficiency washing irrespective of the production speed; the drive system and the fabric guiding also ensures a very gentle treatment of the most sensitive qualities. No matter if the target is to wash, to bleach, to dye or to mercerize: With GOLLER the customers can always rely on high reproducibility and on being right first time.
In hall 7, booth 711 FONG'S shows an Allfit 30 dyeing machine. The Allfit series is suitable for medium batch sizes and improves the lab to bulk accuracy. It can also be used to develop new technologies and to produce customer samples in an efficient way. With this machine FONG'S only shows a small fraction of the experience and the competence which is united in the different brands. With the team of technologists and textile engineers which will be present during the ITM our customers can discuss every single aspect of the wet finishing process: From washing to waste water treatment and from dyehouse management systems to mercerizing.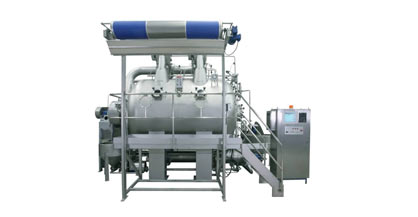 Pic: Then Airflow
Related News
More News from FONG'S Europe GmbH

Latest News