Nonwovens / Technical Textiles
2016-05-19
Web-based commissioning and operation of web guiding systems
At the IDEA exhibition in Boston, Erhardt+Leimer has presented its web-based management interface for commissioning, operating and servicing complete web guiding systems via an Internet browser.
"All of the necessary devices in the network, i.e. sensors, controllers and actuators, are now networked via Ethernet", explains Dirk Schröder, Sales Division Manager at Erhardt+Leimer.
"No external tools or operating units are required any more for commissioning and operation. Instead, all that is needed is an Internet browser on a smartphone, tablet PC or other terminal. This means that operators now have wireless access from any location to the graphical user interface of the device in question, so they are no longer tied to the physical location of the machine." 
Production Management and Quality Assurance can now access all of the required information at any time and from anywhere in the world via a web browser, allowing them to e.g. view production data quickly and easily in real-time.
Depending on the application, pivoting frames, support beams for sensor positioning or sensor follow-up, segmented roller guiders, steering rollers and spreading devices are used as actuators for web guiding and for web spreading.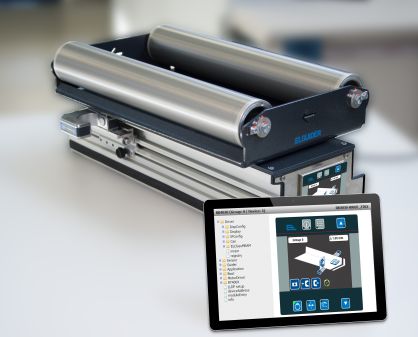 Pic: Erhardt+Leimer web-based management interface
Related News
Latest News Nonwovens / Technical Textiles
More News from Erhardt + Leimer GmbH

Latest News