Home Textiles
2018-01-11
Trevira at the Heimtextil 2018
This year, Trevira has a new concept for the Heimtextil trade fair. Under the banner "Trevira CS – Safety for your success", Trevira, along with important Trevira CS customers, will be represented by a 1,305 m2 stand in hall 4.2. A Trevira exhibition will be the centrepiece of the joint booth, which will address the features of the Trevira CS brand and present fabrics from the 2018 Trevira CS Creativity Competition, in addition to providing information about the company. All around this centrepiece, customers will be presenting their newest Trevira CS collections for residential and contract usage.
In two additional areas, Trevira will be showcasing products developed by the company itself or its customers. These will include the first products with the new sustainable brand label Trevira Sinfineco. One of these products will be a pillow from our Portuguese customer Carlos Manuel Salgado Costa, Ltd. (Analar®) that has a filling made from 95% biopolymer PLA. The pillow has a net weight of 600 grams and is machine washable at 40 degrees. The other product is a curtain made by the Weberei Hohmann GmbH & Co. weaving mill from Helmbrechts-Bärenbrunn that is made of 42.5% rPET based filament yarn. The curtain is a jacquard crêpe that has a granular, sandy surface structure and a cosy soft drape.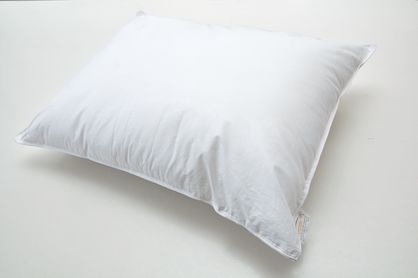 Pillow with a filling made from 95% biopolymer PLA © Photo: Trevira GmbH/
Carlos Manuel Salgado Costa, Ltd.
A product novelty, which is of particular interest for automotive interiors, is a phosphorescent yarn that will glow in the dark for up to seven hours after brief exposure to light. In order to demonstrate just how bright it is, the luminescent yarn will be on display in a dark showcase at the booth. In the automotive sector, we will also be displaying warp-knitted blinds made by Acker Textilwerk GmbH from Seligenstadt that was made of a spun-dyed flat yarn and is used in high-quality vehicles. Also in this sector, we will be presenting a fabric by Strähle+Hess GmbH from Althengstett that was manufactured using a Trevira melange yarn made of recycled PET.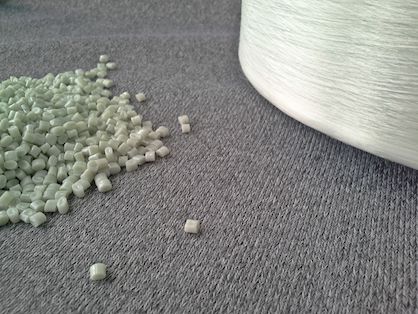 Fabric using a Trevira melange yarn made of recycled PET © Photo: Trevira GmbH/Strähle+Hess GmbH
Spools and fabric samples will visualise the topic of melanges for upholstery and decorative materials. The yarns are flame retardant and are available in both a dull and bright version.
A special highlight at the Trevira booth in 2018 will be the sports shoes that are part of this year's trade fair outfit. These shoes are an Adidas Originals Special Edition of the iconic Stan Smith Silhouette, which Adidas presented in mid-2017 in cooperation with Kvadrat, one of Europe's leading textile manufacturers. The Stan Smiths were first released in the 1970s as a professional tennis shoe. It did not take long for their fresh, clean look to make them popular even off the courts. The three new versions of the Stan Smiths will appear in Kvadrat's modern plaid fabric in the three colour variations navy blue, pink, and black. The fabric is woven with flame retardant Trevira yarn. The Stan Smiths are therefore an especially lovely example for one of the many uses of Trevira CS fabrics where appearance and textile performance are more important than flame retardant characteristics.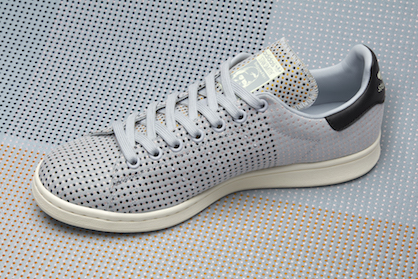 Adidas Originals Special Edition of the Stan Smith Silhouette © Photo: adidas AG
Sister company PHP Fibers GmbH will present BREATHAIR® − a material for breathable upholstery in the category of new developments. The innovative structured BREATHAIR® material is made from thermoplastic elastomers and is extremely water-resistant and breathable. Since the material is also elastic, durable, and lighter than a polyurethane of the same hardness, the product is ideal for a broad range of applications with countless new possibilities. The material has its 3D loop structure made from filaments and elastomer components to thank for all of these features. Possible applications include bedding, medical healthcare products, sports, or upholsteries.
Another section of the Trevira booth is dedicated to the topic acoustics. For several years now, textiles have been (re)discovered as materials that can greatly improve the acoustics of a room. With a selection of 25 Trevira CS fabrics, Trevira will present the broad range of design options. The sound-absorbing effect can be improved with curtains, wall coverings, room dividers, ceiling absorbers, or through the presence of upholstered furniture. Trevira CS fabrics can be used on their own or in combination with other sound-absorbing materials.
Depending on the design of the room and the acoustic requirements, a variety of materials is available. In the area of sound-absorbing curtains, in particular, there have been many new developments. These are available in various designs and degrees of transparency.

By experimenting with enlarged surfaces and volumes, very creative textile surfaces can be constructed that improve the acoustics. To achieve this, 3D weaving techniques and constructions as well as composite constructions are used. Crushed or two-ply materials are two examples. Sometimes completely new looks and surfaces are created that are a fantastic addition to the range of available products in this sector.

Multifunctional textiles are of particular interest, which can be a great advantage in various fields, and have a wide range of uses, e.g. curtains, room dividers, or upholsteries, and they even have a black-out effect.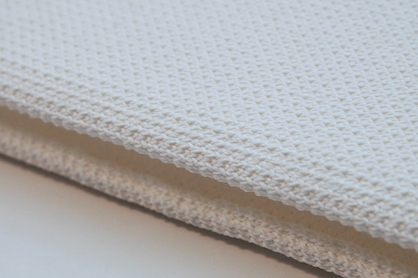 Essedia 3DEA®: Spacer fabric © Photo: Trevira GmbH/ Essedia 3DEA®
Spacer fabrics that were initially produced for seating and resting have found a new purpose; they are now also used as sound-absorbing acoustic materials.

In addition, many fabrics were developed, which, in combination with other materials, are included in products that can significantly contribute to a good acoustic atmosphere, i.e. room dividers, dividing walls, panels, and ceiling absorbers.
Trevira CS Club 2018 – Fabric Creativity Competition No. 6

Innovative fabrics in trend colours
This year, the Trevira CS fabric competition focussed totally on the subject of "colour". Fabric makers were invited by Trevira to submit qualities that displayed colour fields ranging from white, through grey, ice-blue to lemon yellow – colours that in combination now set the pace in fashion and lifestyle, and can be seen in the Trevira stand concept. The presentation of the fabrics will form the central place on the Trevira booth in Hall 4.2. The display of the fabrics at our booth is particularly interesting in that Messe Frankfurt is presenting the "Expo", an exhibit that appeals to architects and decision-makers in the contract sector.
From the numerous entries from fabric suppliers for the Fabric Creativity Competition, 16 winning fabrics were selected by a specialist jury.
Judges of the Trevira CS fabric competition 2018: Professor Bettina Göttke-Krogmann (Burg Giebichenstein − Kunsthochschule Halle), Markus Hilzinger (FINE ROOMS Design Konzepte GmbH, Berlin), Natalija Zimmermann (BZ.Bildung-Beratung-Innovation, Leipzig), © Photo: Trevira GmbH
Trevira GmbH 2017: Successful with specialties

The long-term commitment of Trevira's parent company, the Thailand based Indorama Ventures PCL (IVL), was once again confirmed in May 2017. Indorama acquired the remaining (25%) shares of its former joint venture partner, thus making Trevira a wholly owned subsidiary. Trevira GmbH continued to significantly profit from the synergies within the IVL enterprise and can look back on a good year in 2017.
Overall, sales met expectations. Sales volumes were by and large as forecast, and the results increased compared with 2016. The annual turnover was around 244 million euros (2016: 230 million euros). Pleasing progress was recorded especially with business in specialties such as flame retardant fibres and yarns (Trevira CS), low-pill apparel fibres, and bicomponent fibres. An unexpected plus was also recorded in the automotive industry.
As in the years before, the overall favourable economic conditions and the sustained recovery of the European contract market enabled us to achieve a significant growth in the sales volume for flame retardant products in 2017. The growth volume of filament yarns was even at 10%. The principal customers for flame retardant Trevira fibres and filaments continue to be manufacturers in Europe, especially in Italy and Germany. Trevira CS business in Turkey suffered from the tense political situation, but it was able to recover to the forecast level during the second half of the year.

Products & trends
In both staple fibres and filament yarns, fibres with a natural appearance will continue to play an important role and were in high demand. A broad range of multicolour and melange yarns, which Trevira offers in flame retardant versions, are a response to this trend. Three colour cards showcasing dull and bright melange yarns are available. The first are primarily used in upholsteries, in particular for office furniture. The shiny yarns are used for decorative fabrics, giving them a silky appearance. In addition to the wool look obtained with fibre yarns, Trevira is working on filament yarns that can also create a wool look.
Another important growth segment in 2017 was the flame retardant bico fibres for sound-absorbing textiles & acoustic panels.
In addition, the proportion of spun-dyed fibres and filaments in Trevira CS textiles grew in the home textiles and automotive segments.
Flame retardant yarns were also in higher demand in the transport industry. This was due in part to the attractive range of flame retardant yarns, which, depending on the field of application, offers more interesting effect yarns than standard polyester yarns. We also profited from the stricter regulation no. 118-02 of the United Nations Economic Commission for Europe (UNECE) for buses, which requires vehicle seats to pass a test to determine the horizontal as well as a vertical burning rate of materials.
As in the past years, Trevira also developed countless customised products for new uses and fields of application.
Projects & events
In the past year, Trevira was present at numerous international trade fairs or supported important industry events as a sponsor. In Europe, these included participating in the Heimtextil and Techtextil in Frankfurt, the Index in Geneva, the BCFA Open in London, and sponsoring the Munich Stoff Frühling and the Paris Déco Off.

In addition, Trevira was also represented in the Middle East at the Building Healthcare in Dubai, the Big Show in Oman, and the Project Qatar. In Asia, Trevira had a booth at the Intertextile Shanghai. Nine renowned Trevira CS Club editors took part in the appearance in order to promote the Trevira CS brand and its wide range of fabrics in China.

For the first time, Trevira was represented at the Boutique Design in New York. With the aim of increasing brand familiarity in North America, Trevira CS fabrics – mostly with a natural appearance – were displayed by some American and a few European retailers who have a permanent showroom in the States. As a sponsor for the Interact, the annual ACT (Association for Contract Textiles) conference, Trevira granted interested customers admission to this important networking event for the US market.

Related News
Latest News Home Textiles
More News from Trevira GmbH

Latest News