Dyeing, Drying, Finishing
2014-03-20
CHTC FONG'S Group participate in INDOinterTEX 2014

The 12th International Exhibition on Textile Industry (Indo Intertex 2014) will be held at Jakarta International Expo, Kemayoran, Indonesia on April 23-26, 2014. "Indonesia's textile industry is expecting to benefit from the slowdown in the Chinese textile sector, which is going through a crisis after the Government lifted subsidies and incentives provided to the sector." That is confirmed by the Chairman of Indonesian Textile Association (API).
Taking this opportunity, the largest textile manufacturer China Hi-Tech Group Corporation (CHTC) will showcase the latest new technology together with its subsidiaries as well as one of predominant dyeing and finishing supplier - CHTC FONG'S with area nearest 2,000 sq. meter space at CHTC Hall B1. THEN AIRFLOW SYNERGY 8 aerodynamic high temperature dyeing machine and MONFORTS FONG'S MONTEX 6500 stenter will be firstly demonstrated at CHTC Hall. With the strong support from the local agent DKSH Primatek, CHTC FONG'S will have another join information booth at Hall A3 88, 93.
THEN AIRFLOW® SYNERGY 8
Aerodynamic High Temperature Piece Dyeing Machine
The latest generation of the THEN AIRFLOW SYNERGY 8 is the best example of how to make good things even better. It is well known that the liquor ratio achieved with the THEN AIRFLOW principle up to date has not been beaten. The same counts for the versatility of this superior machine. With the latest development the energy consumption is further reduced.
Every tube now has an individual frequency controlled blower with less installed power. All the other advantages of the THEN AIRFLOW SYNERGY series remain unchanged, which leads to shorter cycling times and substantial savings in water as well as high reproducibility and smooth fabric guiding. In 2013, it won the Award of the "2013 Hong Kong Awards for Industries: Machinery and Machine Tools Design Award".
Breaking the barrier of loading capacity, the model extends up to 12 tubes with individual control, suitable for various kinds of fabrics with better flexibility, quality and ergonomics.
MONFORTS FONG'S MONTEX 6500
The cutting-edge Stenter Frame Range
As a leader in textile finishing machinery manufacturing, MONFORTS FONG'S never stops the pace of progress. Since the successful launch of the perfectly designed MONTEX 6500 Stenter Frame Range in Oct., 2009, MONFORTS FONG'S scope of supply has been diversified and most advanced whereby brought us high market share and great praises.
This cutting-edge MONTEX 6500 Stenter Frame Range carries distinctive features by A. Monforts design after many years of striving for perfection.
An integrated exhaust air channel has been applied into the chambers to save extra ducting works above chamber roof.
With MONFORTS patented TwinAir system, a perfect dynamic balancing impeller with 710mm in diameter provides even temperature across fabric.
A series of new features have been added to this range, such as Lift-O-Matic pneumatically powered chamber doors in vertical motion and a versatile nozzle to be applied to various types of fabrics.
This model is also equipped with a touch screen with graphical interface for central control as well as a back-up panel to ensure the safe operation of major functions during emergency.
Heat recovery module is available for more effective energy saving.
"Monformatic" function allows adjusting chain speed and chamber airflow automatically based on required heat-setting temperature or residual moisture content.
The MONTEX Stenter Frame has been a global synonym of top-rate technology for best results in the finishing treatment of woven and knitted fabrics. New features make the outstanding MONTEX 6500 even more economical in operation, more universal in use and improve its ecobalance even further.
FONG'S SUPERWIN
Single Flow Yarn Dyeing Machine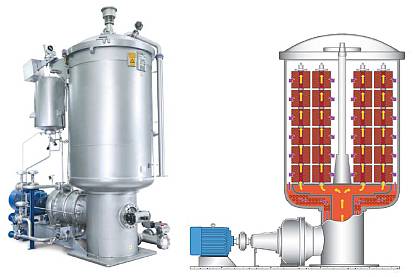 Pic: The latest development SUPERWIN Single Flow Yarn Dyeing Machine has won the Grand Award of the "2013 Hong Kong Awards for Industries: Machinery and Machine Tools Design Award".
Outstanding feature:
Single Inside-out Flow Packages with Unique Wave Dyeing Technology
During a Single Inside-out Flow process, dye liquor discharged from the pump enters the carrier and passing through spindles, then reaches the packages and diffuses towards surface outside. It is required only a sufficient water level at the kier bottom to maintain steady pump operation and not necessary to have all packages immersed with liquor, hence achieving a lower liquor Ratio.
Owing to the reversal function on traditional yarn dyeing machines, the packages could be expanded and contracted by pressure changes during switch of flow, hence increasing the effectiveness and evenness in dyeing. Since the single flow concept has no switchable feature, the pump should vary its speed to generate pressure difference according to specific principles.
By executing a specific period of change in pump frequency, smashing the packages like waves such that it could move under differentiating pressure would lead to perfect utilization the advantage of dual flow concept, in a much lower demand of water and electricity. During operating, the liquor ration as low as 1:3 and compatible to various kind of dyeing applications including light and sensitive colour.
When compared with the conventional one, the water consumption can be saved at least 43.72% and the steam consumption can be saved at least 71.47%. It's Single Inside-out Flow dyeing achieves versatile saving by economizing water consumption, electricity, steam, chemicals and time. We are not just aiming to save water as well as the energy and all resource to extend the sustainability of greener production.
GOLLER
Desizing / Scouring / Bleaching Range
In order to meet different process requirements, Goller has developed and produced continuous processing equipment include a variety of washing ranges, mercerizing machines and scouring and bleaching machines. For the prevalence of high energy consumption, labor-intensive and poor process reproducibility in the traditional rope washing, now many of the high-end manufacturers have been gradually shifted to open width pre-treatments.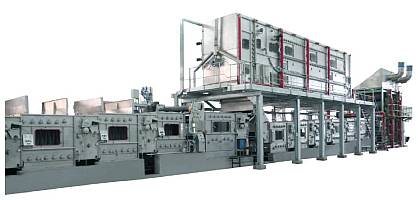 Pic: The GOLLER line for desizing, scouring and bleaching
Typically it can lower the water consumption and lower processing time for the bleaching process before the dyeing. Furthermore, the continuous processing has many advantages to enhance the product quality.

Even Chemical Application
Fabric Evenly Heated by Saturated Steam
Crease-free Fabric Transport
Synchronization-Low Tension Fabric Transport
Good Desizing / Scouring / Bleaching Effect
Excellent Fabric Surface (Anti-Pilling)
Low Energy Consumption
Process Control System MULTIDATA – High Reproducibility
Mercerizing Range
Over half a century Goller from Germany has involving in mercerisation. Through continuous innovations and constant development Goller, today a part of CHTC FONG'S Group, sets the benchmark for the new mercerizing line to enhance and upgrade the product quality.

Best Luster Effect
Event and Free Shrinkage Over the Width
Even Finishing Effect (Left, Middle, Right)
Low Energy Consumption
Low Tension Fabric Transport
Automatic Control for Lye Concentration and Temperature
XORELLA'S XO-SERIES
Vacuum Conditioning and Heat Setting Machines
XORELLA's XO-Series energy saving vacuum conditioning and heat setting machines has been well used in improving the quality of yarn and also heat setting of garment. The Xorella XO-Steaming treatment could even penetrate the textile products for humidification, twist setting, preshrinking the synthetic filament, anti static, colour fixation of digital printed fabric and heat setting of garment.
The latest saturated steam generating system could reduce 30% of connected power loading and save between 15% to 25% energy consumption. In order to satisfy the requirement of different users, Xorella provides both round and cubical machine and also variety of loading and door opening systems for customer selection. Nowadays, XO-Series machines were used in more than 50 countries in the world.
Currently, no enterprise can be totally free from the impact imposed by the natural resource scarcity and environment pollution. Fong's has been paying attention to achieve better sustainability so that our customer can aim at greener production to meet the environmental and quality standards being demanded by brands. All latest technology aims at save resources like water, energy and chemical dyes, short processing times and enhance product quality which are the key essential factors to assist customers achieving high efficiency and cost reduction to improve their global competitiveness and maximize their return on Investment.
Visitors ot the boothes (Hall B1) can learn more about CHTC FONG's Green Innovation!
Related News
Latest News Dyeing, Drying, Finishing
More News from FONG'S Europe GmbH

Latest News