Digital Printing
2017-10-26
Digital Textile Printing Conference Version 2.0
AATCC and SGIA have gathered some of the biggest names in the industry for the Digital Textile Printing Conference Version 2.0 being held November 29-30 at the Sheraton Imperial Hotel in Durham, NC, USA.
Digital textile printing is experiencing significant growth, and with growth comes opportunity. This exclusive conference focuses on the latest industry trends, print technology developments, key market drivers and insights, applications, and case studies. Connect with industry colleagues and experts, network with businesses similar to yours, gain valuable knowledge to stay ahead of your competitors...all at the Digital Textile Printing Conference Version 2.0.
The two-day event will deliver unprecedented content to conference registrants who will leave with a wealth of understanding and inspiration to take back to their respective jobs. Attendees will have an opportunity to socialize with colleagues and visit tabletop displays during the Wednesday evening reception.

Presenters and abstracts as well as registration information can be found at

https://www.aatcc.org/evnt/conferences/digital-textile-printing/[p: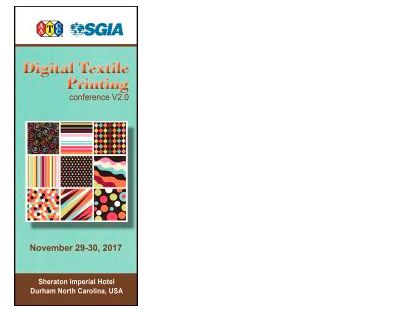 8c) 2017 AATCC
Confirmed speakers include:
State of the Digital Textile Printing Industry: Technology and the Innovation that Drives Growth—Ron Gilboa, Keypoint Intelligence
Digital Textile Solutions—Matching the Technology to the Application—Vince Cahill, VCE Solutions
Digital Textile Printing—An Impartial Guide to Choosing the More Suitable Technology for Your Business—Duncan Ross, AVA CAD CAM Group
Fabric for Digital Textile Printing: A Panel Discussion—Kerry King, Spoonflower; Mike Sanders, TVF; Hitoshi Ujiie, Thomas Jefferson University; and Katelyn Lee, Cotton Incorporated

Digital Inkjet Printing on Jacquard Woven Fabrics—Claire Hider and Traci Lamar, North Carolina State University
Digital Dye Sublimation Printing for Customized Warp Knit Advanced Flexible Composites—Mark Sunderland, Thomas Jefferson University

Designing for Digital—Charles Contompasis, Keryakos Inc./MA+CH Studio
Digitally Printed Fabric Requirements for the Automotive and Outdoor Furnishings Markets—David Clark, Huntsman
Grow Profit and Efficiency by Adopting Optimized Digital Textile Workflows—Scott Donovan, BleuPrintCreative
Digital Printing using VAT Inks—Thomas Kloebl, Zimmer Austria

Understanding the Color Characterization Process for Textile Printing—Jonathan Read, Media One Digital Imaging Solutions LLC
Print Quality Optimization & Controlling Process Variation—Jonathan Read, Media One Digital Imaging Solutions LLC

Delivering Consistent Durability in Digitally Printed Textiles—Brad Riley, The Lubrizol Corporation

The History and Current State of Digital Pigment Technology—Hamid Shirazi, Fujifilm Imaging Colorants
Pigment Inkjet: A Panel Discussion - Mario Vincenzi, Durst; Erin Ormsby, Kornit Digital; Dalton Cheng, Advanced Inks; Mike Sanders, TVF; Jonathan Read, Media One Digital Imaging Solutions LLC; and Hamid Shirazi, Fujifilm Imaging Colorants
Manufacturing 4.0, IoT & On-Demand Digital Textile Printing—Steve Smith, DPInnovations Inc.
Adobe Insights into Textile Printing Workflows—Mike Scrutton, Adobe
Related News
Latest News Digital Printing
More News from American Association of Textile Chemists and Colorists

Latest News