Digital Printing
2017-08-31
Kornit to demonstrate express fashion capabilities at NY Fashion Week and Textile Month
Kornit Digital continues education of the fashion designers' community about on-demand, environmentally conscious textile printing with minimal infrastructure requirements
Kornit Digital Ltd. (NASDAQ:KRNT), a company that develops, designs and markets innovative digital printing solutions for the global printed textile industry, announced that during this year's New York Fashion Week and Textile Month, it will co-host a symposium with the Fashion Institute of Technology (FIT) to discuss how digital printing is becoming an enabling technology for the fashion industry's transition to ultrafast on-demand fabric and garment decoration.
The company also announced that collections designed by students of the Academy of Art University of San Francisco, using the Allegro roll-to-roll printer, will be showcased at a separate event on September 9, 2017.

September 9, 2017 – Fashion Week - Featured Collections Day

The highly publicized Fashion Week NYC is a chance for the best designers to present their collections in various runway events around the city. Since 2005, the Academy of Art University, San Francisco, has premiered the collections of students and recent graduates during New York Fashion Week. On September 9, at NYFW: Skylight Clarkson Square, Gallery I, a special collection printed on the Kornit Allegro will be presented in a fashion show (by invitation only), dedicated to the designs of 9 graduate collections from the Academy.

September 13, 2017 – Digital Innovation Day

As part of the Textile Month's program, conceived by trend forecaster Lidewij Edelkoort, a special "Express Fashion" event will be co-hosted by FIT and Kornit on September 13, 2017. The event, by invitation only, will take place at FIT's campus located at 227 W 27th St. New York, NY (Corner of 27th St. and 7th Ave.).
Visitors interested in digital printing as an eco-friendly and profitable solution will be able to view a display of recent, attention-grabbing digital collections, meet industry leaders and learn how easy it is to start on-demand production with Kornit's advanced technology.
Included in the program are talks by Kornit's CEO Gabi Seligsohn, who will discuss how the company is taking advantage of the revolution in apparel shopping habits and the supply chain changes taking place as a result. Omer Kulka, Kornit's VP of Marketing and Product Strategy, will deliver a talk on the boom of online business in the fashion industry.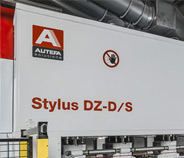 Kornit Allegro (c) 2017 Kornit Digital
Keynote speakers will include Raphael Peck, President of Fanatics Brands, a top 50 internet retailer and a market leader in authentic and officially licensed apparel for sports fans. Mr. Peck will discuss Proximity garment decoration and how Fanatics is addressing a booming market with innovative marketing and manufacturing technologies. A speaker from FIT will discuss the importance of the transition from Analogue decoration technologies to Digital Printing.
Related News
More News from Kornit Digital

Latest News