Digital Printing
2017-04-12
SPGPrints shows cost-efficient, high-performance rotary screen and digital textile printing solutions at Indo Intertex 2017

SPGPrints JAVELIN (c) 2017 SPGPrints
SPGPrints will highlight the long-term savings and reliability of its reusable nickel rotary screen printing solutions plus the high performance of its inkjet technology for textile printing, at Indo Intertex 2017.
The company will exhibit in conjunction with its regional distribution partner, PT. Nutek Kawan Mas (Hall A, Stands 63 / 130, 19-21 April, Jakarta International Expo, Kemayoran, Indonesia).
SPGPrints offers a fully controllable, efficient rotary screen process, with solutions covering every step in the workflow. The nickel electroformed NovaScreen® and RandomScreen® screens are capable of faster print speeds and achieve even paste transfer with relatively low squeegee pressure, resulting in improved paste yields.
The NovaScreen, available in mesh counts from 135 to 245 holes per inch, combines high resolution with high open area, thanks to a unique mesh and hole shape.
The RandomScreen features an irregular hole distribution that eliminates moiré that can be caused by clashing patterns. With a 125 mesh and 79µm hole size, the screen contributes to paste savings, especially when printing pigment.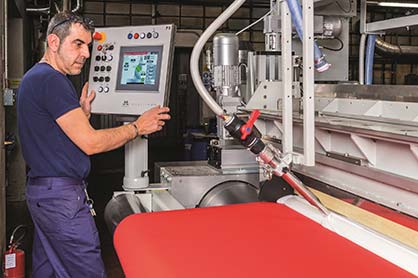 Pic: SPGPrints NovaScreen
Thanks to their strength, NovaScreen and RandomScreen screens can withstand the rigours of relatively fast production speeds, handling and multiple re-engraving cycles. As a result, SPGPrints' textile rotary screen customers in Indonesia report being able to re-use the company's screens for several different designs, thereby saving consumable costs. New water-based stripping technologies that contain no corrosive chemicals can extend the life of SPGPrints' screens further and provide a lower-risk, environmentally responsible way of stripping.
.
Additionally, SPGPrints offers digital imaging solutions for fast rotary screen preparation, with a fast return on investment. SPGPrints' smartLEX 7043 direct laser exposing system, with its unique multi-beam diode technology, combines long life, economical use of energy, high productivity and resolutions of up to 2540dpi. Using an intuitive Smart-GUI, smartLEX 7043 exposes screens between 300mm and 3500mm length, in exposing cycles as short as 12 minutes.

Information on SPGPrints' digital printing solutions will be available from SPGPrints and Nutek personnel at both stands. SPGPrints' digital printing machine offerings include its high productivity, fixed-array PIKE® printer, capable of printing up to 13 million linear metres per year, and its scanning head JAVELIN® printer for outputting up to 2 million linear metres annually

Both printers feature SPGPrints' unique Archer® technology. With nozzles 4mm from the substrate, a wider range of substrates can be run, and the chance of print head damage is reduced. Using only six colours, Archer technology enables a gamut wider than the HD-gamut of other digital textile printing solutions. In addition, SPGPrints' 'Archer Print Head Program', provides a two-and-a-half-year guarantee on the print heads in combination with the use of accredited inks.

SPGPrints has invested significantly in the development of digital inks that ensure unattended printing, with unrivalled quality and runability.

The PIKE and JAVELIN printers may be configured for use with acid, disperse and reactive inks, all manufactured by SPGPrints. These inks are 100 per cent compatible with Archer technology used in these printers, based on the Fujifilm Dimatix Samba print heads.

SPGPrints manufactures inks that are specially formulated for the leading industrial print heads and fabrics, through its NEBULA, QUASAR and FLARE ink ranges.

"SPGPrints' solutions are well-suited to the Indonesian market with its high use of cotton, rayon and polyester fabrics," says Yuwenta Hendrika, managing partner, Nutek Kawan Mas. "The company's dedication to innovation and technological development, as well as its commitment to local markets have given SPGPrints a leadership position in global textile printing."

Ronald Meuffels, senior area sales manager at SPGPrints, comments: "In a market that is increasingly characterised by fast-turnarounds, price-sensitivity, and online sales, the ability of textile printers to respond as quickly as possible with the highest quality at the right price is essential. SPGPrints offers the latest solutions for the entire workflow, whether digital or conventional. Its worldwide service, support and applications expertise makes it an ideal partner in challenging times."
Related News
More News from SPGPrints B.V. (Head Office)

Latest News