Textiles & Apparel / Garment
2017-11-08
The ISKO ARQUAS activewear platform makes its first-ever appearance at Performance Days

(c) 2017 ISKO
The global leading innovator in denim and woven technologies reveals its developments combining textile performance and undeniable style: the ISKO ARQUAS platform and its inspirational style moods fit every moment of the active lifestyle, bending the rules and reshaping fashion.
ISKO ARQUAS makes its entrance in Performance Days – Functional Fabric Fair for the first time. The activewear platform conceived by ISKO, the global leading innovator for denim and woven technologies, will bring its latest developments in the combination of textile performance and style into the expo arena.
Thanks to the combined efforts of ISKO and its Italian design and style division, CREATIVE ROOM, ISKO ARQUAS sets out to bend the rules with a collection of advanced textile concepts destined to become essential ingredients for activewear that delivers both sports-level performance and refined design.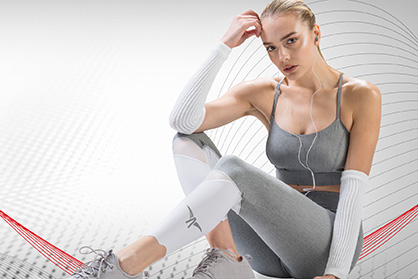 (c) 2017 ISKO
The four inspirational moods

ISKO ARQUAS platform is a wide range of technical and stylistic applications in four moods – ACTIVE, OUTDOOR, HYBRID and LIFESTYLE. They were specifically developed to cover and inspire the widest range of active lifestyle activities.
ACTIVE – This collection guarantees the highest level of performance for high impact sports activities such as training, cardio, yoga, cycling or running. It's the perfect solution for athleisure, offering the ideal fashionable apparel for the modern lifestyles taking care of well-being. One of the stars of the collection is ISKO BLUE SKIN, the latest generation of 360-degree elasticity assuring 3D body shaping and four- way stretch with extra holding power, together with ISKO SCUBA, patent-pending denim technology that has unique features for thickness and volume, maximum holding power, and perfect contouring of the body. ISKO FUTURE FACE, the patented concept that combines denim performance with a knitted look, is also used in 100% poly versions or with a blend of natural fibers (e.g. Modal), with trendy color shades available like shiny-grey mélange and drapey, luxury-looking yet sporty versions. They all are special woven constructions with innovative performance that includes, among many features: water-repellency, heat retention, anti-odor, anti-bacterial, stain repellency, UV protection, thermal insulation, lightweight, shape retention and recovery power, comfortable soft touch.
OUTDOOR – For outdoor activities, like hiking and camping: multi-functional fabrics that can be worn any time, anywhere. This collection of fabrics was designed for the demands of style in the outdoors and it's the base ingredient for progressive garments and five-pocket jeans with high recovery power that are perfect for trekking. Functional, thermal insulated denim shirts are classic garments whose futuristic design comes from their technical fabrics. Warm and super-comfortable suede-like jackets are made of ISKO COSY, a breathable denim with heat retention and UV protection created from a premium selection of fibers two times finer than silk and three times finer than cashmere. The fabrics ISKO SCUBA, ISKO BLUE SKIN and ISKO POP – a patented technology with all the sheen and softness of silk – feature breathability, water-repellency and wind protection, and the softest touch on the skin. These technical weave fabrics offer UV and elements protection, together with a strong resistance to abrasion so they are ideal for building technical jackets as well.

HYBRID – From sports to the streets. The HYBRID family gives a fresh approach to daily lifestyle apparel, combining technical performance features with a streetwear attitude. Be ready for anything – a cycle to work in the rain, a drink with friends or a run on the beach – and still look cool, with textile technologies that make sure garments never lose their shape. This mood includes the denim concepts ISKO COSY, ISKO FUTURE FACE (also available in thermo-cool stretch version) as well as the patented four-way stretch technology ISKO BLUE SKIN; all have cool dry-moisture control, water-repellent and anti-bacterial features. ISKO XMEN'S and ISKO REFORM fabrics, functional combinations of superb stretch and outstanding recovery power, allow for the creation of trendy, skinny fits with shape retention and solutions incorporating natural bamboo fibers.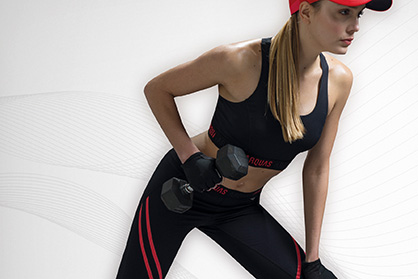 (c) 2017 ISKO
LIFESTYLE – There are times during the day when you just need to stay warm and comfy, with a sporty and relaxed attitude. LIFESTYLE is that everyday easy-to-wear mood, fashionable even when you are going to and from the gym, and it comprises ISKO FUTURE FACE (both in black and indigo colors, also with extra softness, recovery power and shape retention) and ISKO BLUEJYM concepts – all fabrics for jeans as comfortable as knit sweatpants – plus ISKO JOOL technology, with its luxurious combination of denim and wool.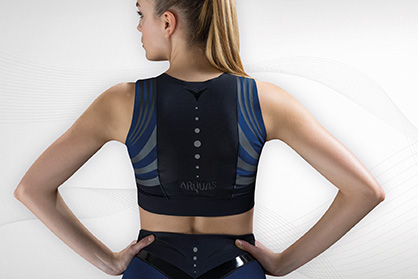 (c) 2017 ISKO
Dress smart, live responsibly

For ISKO, the global forerunner in denim and woven technologies, innovation brings with it responsibility: it's state-of-the-art without forgetting to be responsible towards people and the planet. ISKO's applies an integrated field-to-fabric approach that injects ethics and respect into every action along the value chain. That's the true essence of ISKO EARTH FIT, responsible innovation platform that is committed to reducing environmental impact every day. The ISKO ARQUAS booth, contains a display about the innovation and best practices that earned ISKO EARTH FIT the EU Ecolabel and the Nordic SWAN Ecolabel. ISKO is the only textile mill in the world to have won this award.
See you at Hall 6 - Stand 619 + 621

Stop by and get your energy fix in our coffee corner, offered by ISKO and Performance Days organizers.

Related News
Latest News Textiles & Apparel / Garment
More News from TEXDATA International

Latest News