Denim
2017-05-24
6th Bangladesh Denim Expo in Dhaka: where Denim networks grow

(c) 2017 Bangladesh Denim Expo
The 6th Edition at a glance: With exhibitors from 12 Countries, 4 unique Seminars & workshops, and a bigger 'Trend Zone' with a brand new 'Information Exchange Zone', the 6th edition of the denim show has marked another leap forward
Highlighting the importance of developing business relationships and promoting best working practices, the 6th edition of Bangladesh Denim Expo started on 17 May at the International Convention City Bashundhara, Dhaka, to end on the 18th.

The theme of the two-day expo was 'Denim Networks', underlying the strategic importance for the global market nowadays to strengthen long-term relationships and mutual approach, especially on innovation and sustainability.

The expo in numbers:

The sixth edition has seen a total of 58 Exhibitors from 12 countries – Bangladesh, Brazil, China, Germany, Hong Kong, India, Italy, Japan, Pakistan, San Marino, Spain and Turkey displaying their products and actively participating in the main theme of the show that registered over 5545 visitors from 1029 companies and 52 countries as well, confirming the constant growth in audience numbers since the beginning. Starting with ten thousand online registered visitors, the organizers expressed their satisfaction for having attracted a bigger crowd than expected, considering the usual gap.

The last four editions of the expo have registered a continuous growth in visitors, country and company numbers. The 3rd edition, in fact, had 2280 visitors, from 851 companies in 44 countries, while the 4th had 4165 visitors from 993 companies in 43 counties, and the 5th edition hit a record 5010 visitors from 1023 companies in 46 countries.

In this six edition a total of four informative seminars and workshops on trends, innovation & new technologies, global denim market and quality assurance are also being held at the expo on both days.

Seminar details

"From ideas to technologies: discovering a new age for garment finishing" May 18th, 11.00 – 11.45 am - With Mrs. Alice Tonello, R&D Manager – Tonello Garment Finishing and Mr. Piero Turk, World Renowned Denim Designer.The seminar focused on new trends in finishing, embracing cultural, economic and technical considerations, and was followed by a "Question and Answer session".

"A/W 2018/19 Trend Seminar by WGSN"

May 18th, 12.10 – 01.30pm.An extensive presentation by the specialists from the renowned trend forecaster WGSN, has covered the mood board, key looks & silhouettes for women & men, color, fit, construction, wash and trim direction identified for four main mega trends.

"Garmon S.P.A. Seminar"

May 18th, 2.30 – 3.15pm – with Marco Nava, Global Sales Director of Garmon Chemicals. During his speech, Mr. Marco Nava unveiled the sustainability-oriented approach of Garmon Chemicals, the advanced chemical supplier for the apparel world that provides worldwide fashion players with solutions that give wearers exactly what they ask for: garments enhanced by modern and beautiful fashion treatments that are safe for them and for the planet.

"Total quality assurance. Holistic approach for business excellence"May 18th, 3.30 - 4.15pm – With Dr. Karthik ND, Country Managing Director, Intertek Bangladesh. In this session Dr. Karthik ND shared his thoughts on holistic approach for business excellence with the opportunity for direct interaction with the expert from all attending participants.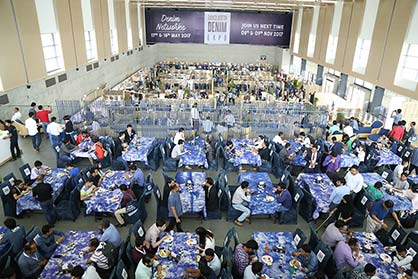 Trend forecast and workshop by WGSNMay 17th, "Nabaratri Hall 4"
An all day workshops at WGSN dedicated booth in Hall 4 mezzanine upstairs in the Trend zone area.
Its 'Trend Zone' area, the unique space dedicated to showcase the latest denim trends and innovative products, where visitors have been able to gain insights on denim fabrics, styling and finishing available in Bangladesh, together with an offer of the most relevant denim publication.
The 6th edition has featured several special event-displays that captured the attention of all denim lovers. Amongst them, the "Tonello Denim Gallery", Selfie Booth by Sportswear Magazine and Trend Zone were amongst the most attractive events of Bangladesh Denim Expo.
A-not-to-be-missed appointment during the event was the Sustainable Apparel Forum (SAF), organized by Bangadesh Apparel Exchance (BAE), which - under the motto "Making Sustainability Easier" - was held the 17th of May for the whole day. Through four unique knowledge sessions the forum explored several key issues aimed at making sustainability easier to implement for by factories and individuals.
SAF 2017 at a glance:
1st ever sustainable apparel event in Bangladesh
4 Specific "Knowledge Sessions" focused on central issues for the whole system: 1) "Saving Water, Resources & Cost – The must knows for your Factories"2) "Energy Efficiency – How to Optimize Energy Consumption & Reduce Cost"3) "Green Factories"4) "Sustainable Financing"
32 National & international speakers
1023 Participants of top management from apparel and textile factories and buyer's officers.
Related News
More News from TEXDATA International

Latest News