Denim
2017-04-20
From the roots of history, to explore the new denim pathways
ITV Denim returns to Kingpins Show in Amsterdam, 19-20 April 2017, tracing new pathways to imagine tomorrow's denim. During the two days of the exclusive Dutch show the novelties in the FW 2018/19 collection stand out, for a line that profoundly restyles the jeans tradition, to rediscover and broaden the reference horizon in an unprecedented way.
The schedule also includes participation in the Amsterdam Denim Days, 17 – 23 April, the days dedicated to denim lovers which liven up the whole city centre, with the project "Where arts meets Denim – Live Art Performance", 21 and 21 April, as part of the Blueprint Festival and in partnership with Blue Concept, the denim brand whose artistic director is Jonathan Christopher, the winning designer of the first Global Denim Awards exactly with ITV Denim in 2014.
ITV Denim will be attending the Kingpins event with a project strongly inspired by the history of this fabric, to trace new routes for exploring models and effects, remaining strongly rooted in the core value of this Italian trademark's activity. The ITV Denim premiumness results specifically from reclaiming the legend of jeans, redesigned and restyled in order to interpret, through the allure of a raw and authentic style, the latest trends in contemporary fashion.
A collection which also reflects the extensive research on materials and innovations, the company's distinctive feature, also rediscovering the more playful and functional side of the product, providing unique and specific features for each line.
Highlights from the FW 2018/19 collection

ITV WORKIN' HERO™ - new colours for an even more authentic denim
The historic family dedicated to traditional denim is enriched through effects, colours and references. Its inspiration comes once again from the world of work, more specifically that of London miners in the 20th century. The product of such a well-rooted and clear-cut imagery is the new "Carbon Grey" colouring, produced starting from vintage fabrics and materials, then completed with the extraordinary shade and scratched effects, resulting in denim with a saturated and determined colour.
It is a continuation of the metaphorical journey by ITV Denim through the working-class universe, in order to shape a line with a genuine and authentic colour, without using indigo. ITV WORKIN' HERO™ makes use of a wide range of sulphur-based dyes to replace the traditional denim colouring pigment, precisely with a view to giving garments a real and concrete allure. Another novelty in this line are the colourings inspired by fabrics used by metalworkers in the 1960s and 70s: the collective imagery of twentieth-century factories results in jeans with intense and vibrant hues, including shaded and vintage effects.
ITV AVRO 1900s™ - from the Royal Flying Corps the bomber jackets restyling an era
Original Bombers, as warm as padded jackets but as easy to wear as jeans. ITV Denim presents the new ITV AVRO 1900s™ line, which rediscovers the origin of the Bomber jacket, transferring it to the denim world with character and personality. This line is directly inspired by the first Bomber jacket models used by the Royal Flying Corps, the British air force fighting during World War One; they were designed to counteract the effect of wind on pilots, with the airplanes being open and thus exposed to weather conditions.
Enhanced with very specific used-look effects and washing processes designed to highlight its nuanced and opaque colours, ITV AVRO 1900s™ produces new types of denim Bomber jackets, made of history, passion and Innovation.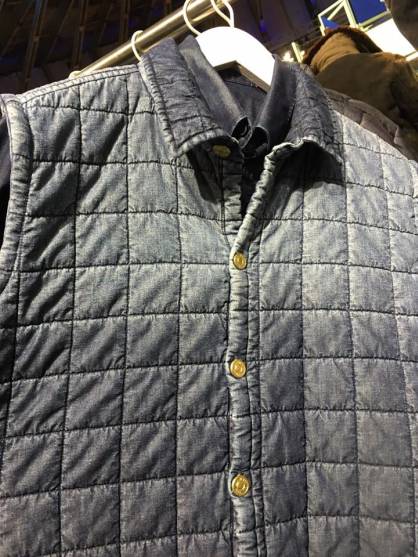 Pic: AVRO 1900s collection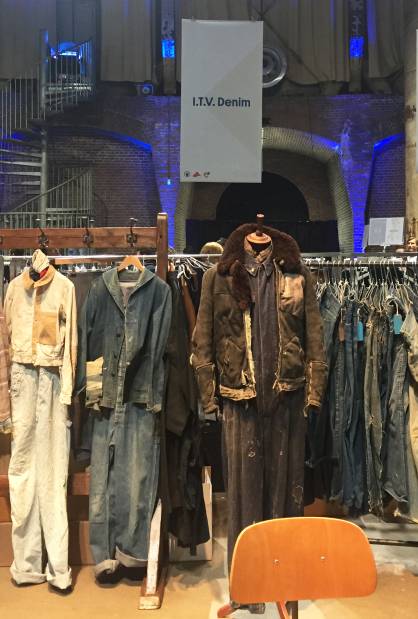 Pic: ITV Denim Booth at KINGPINS (April 2017) (c) 2017 ITV Denim

ITV LUXURYBLENDS™ - denim talking to fashion
Exploring tradition and developing collections with a strong character is also a feature of the ITV LUXURYBLENDS ™ line, and more specifically of the "Gala Denim" project, which presents fantastic evening dresses, tuxedos and absolute novelties in the area of luxury fashion.
For the new season, denim garments and traditional jackets are restyled with slender and less formal contours, with a jaunty and lively appearance, without neglecting the great elegance of this line, embellished by special combination using silver and other valuable materials, which intertwine with the fabric in harmonious shapes, resulting in shining effects.
The two-day ITV Denim event at Kingpins Show will end with the special project "Where arts meets Denim – Live Art Performance by Sven Signe den Hartogh x ITV Denim and Blue Concept", 21-21 April 2017 as part of the Blueprint Festival schedule during the Amsterdam Denim Days. The Blue Concept stand, which is a partner of the event together with ITV Denim, will feature a real art live performance by the Dutch artist Sven Signe den Hartogh. During these two days the artist Sven will combine various techniques and produce a large-scale Denim Artwork, 3x4.5m in size, using the ITV Denim fabric.
The proceeds from this extraordinary three-way partnership will be used to sponsor a young and talented student of denim who will receive a grant for a European graduate school. It is one more occasion for innovating, contaminating and exchanging ideas, which have always been the distinctive pathways followed every day at ITV Denim.
"We intend to explore territories and frontiers that are ever changing, in search of new denim pathways," says Paolo Gnutti, R&D Head at ITV DENIM. "the rediscovery of the true origins of some garments, as of processes, colours and effects which characterised an era, are a continuous source of inspiration for us, to restyle functionalities and performances and to shape our vision of denim in the future".
Related News
More News from I.T.V. INDUSTRIA TESSILE del VOMANO S.r.l.

Latest News