Composites
2017-10-04
A program of tailor-made conferences for the Asian composites industry
JEC Group, the Leading Composites organization in the world, brings to South Korea not only its business platform for Networking but also its top-notch conferences especially designed for the Asian composites markets.
"The success of JEC Conferences worldwide lies in 2 simple facts: Firstly, 100% of the content is designed according to the needs and concerns of local markets and industries. JEC Composites experts all over the world are studying every market specifically to propose a custom-made program all year long. Secondly, we partner with local specialists to fine-tune each topic." comments Ms. Frédérique MUTEL, JEC Group President and CEO.
Indeed, 43 speakers from mainly Asia, but also Europe and America will take the stage next November 1-3, 2017 at the COEX Center of Seoul to present their papers to an international crowd.
The first day, November 1st, is dedicated to the 12th International Carbon Festival (ICF) that JEC Asia hosts for the first time. Among the many speakers from Australia, Germany, Korea, China, France and Singapore, we can highlight the speeches of SGL Group, KCTECH, Saertex, Chomarat or Hankuk Carbon to name a few. Focus will be made on the use of Carbon in Automotive.
On November 2nd, JEC Conferences will be partnered with KATECH (Korea Automotive Technology Institute) to present the topic: "Automotive: novelties in structural and semi structural applications" with speakers from Hyundai Motor Group, Renault Samsung Motors or again Hanwha Advanced Materials. The second part of the day will focus on the future of composites in IT and E&EE with the support of KITECH and ETRI (Electronics and Telecommunications Research Institute).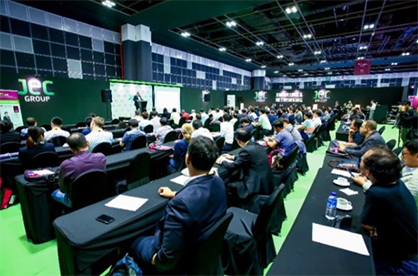 Pic: 3 full days of conferences at JEC Asia 2017 (c) 2017 JEC
Finally, the last day of conferences will present in the morning the topic of "Developing automated processes in Aeronautics: tape laying, fiber placement, etc." with Boeing as a speaker among many others, whereas the afternoon will tackle the issues of "Sports & Leisure: can composite materials do better?", presenting the solutions of COBRA International, ESI Group, Munich Composites, Hanyang University, etc...

Related News
More News from JEC Group

Latest News