Composites
2017-07-12
Huge opportunities for the composites industry presented by JEC Group in Seoul
JEC Group, the largest composites industry organization in the world brings to light the growing importance composites materials have in every industrial sector. JEC President and CEO, Ms Frédérique MUTEL, came to Seoul on Wednesday July 12, 2017, to share her analysis of the current and future trends with Korean press, industrialists, officials and academics.
"Every time I come to Seoul, I am always amazed by the dynamism of the Korean market regarding Composites Materials and Innovation in general. I feel a unique economic vitality from what I call the "golden triangle" formed by Government, Industry and Research together with Material Sciences and Engineering. The proof is the large number of participants we welcomed today. I hope that they grasped the current situation for Composites Materials as well as the challenges and competitions that we will have to overcome together. These are points of reflection that they will be able to pursue during the 10th JEC Asia next November 1-3, 2017 in Seoul." she comments.
The conference had the honor to be prestigiously opened by Mr. Fabien PENONE, French Ambassador to the Republic of Korea. He welcomes the relocation of JEC Asia to Seoul and is looking forward to a promising event next November.

During the conference, prominent guest speakers also took the stage. Mr. JUNG, President of the Korea Institute of Carbon Convergence Technology, discussed about the Carbon Industry in Jeonbuk. Finally, Mr. KIM, President of the Korean Society for Composites Materials presented the current states and prospects of Composites materials in Korea.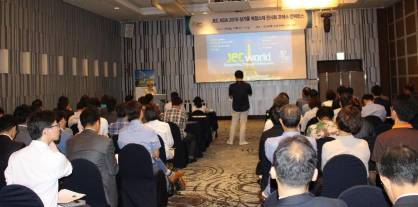 A full room at JEC Presentation in Seoul (c) 2017 JEC Group
JEC Asia and International Carbon Festival (ICF) a perfect combination

For the first time, JEC Asia will be hosting the 12th International Carbon Festival, the Symposium on Carbon Materials and Composite Technologies. "The topics addressed by the ICF symposium are fully complementary subjects to JEC Asia conferences. We believe that the 50% expected international attendees will make the most of the event and of the beautiful city of Seoul" adds Christian STRASSBURGER, JEC Group Asia Director.

Related News
More News from TEXDATA International

Latest News