Composites
2017-03-18
Record breaking figures for JEC World 2017
The N°1 exhibition dedicated to Composites materials closed its doors on Thursday March 16, 2017 with a 2-digit attendance growth (+10%). "JEC Group's strategy towards End-Users is a winning one as we welcomed more architects, creators, developers, designers, style engineers and trend-setters." says Ms Frédérique MUTEL, JEC Group President & CEO.
Indeed, the 4 "Innovation planets" that showcased the latest composites innovations were focused on Aerospace, Automotive, Better Living and Building. Besides, JEC Group launched its new publication "The Future of Building" during JEC World 2017. "We are very happy with the participation and the enthusiasm the compositesprofessionals expressed. We are grateful and are committed to go further", she adds.
Over the 3 days, the event recorded an increase of +10% professional visits compared to 2016, i.e. 40,607 inattendance counting 78% International Visitors from 113 countries.
"We strongly believe in collective intelligence and all our operations aims at evolving the Golden Triangle: Industry, Research and economic authorities such as regional or national entities. It is certainly part of our success, both for JEC Group and here for JEC World", comments Frédérique MUTEL.
Alongside the many International Pavilions, every French Regions were also represented.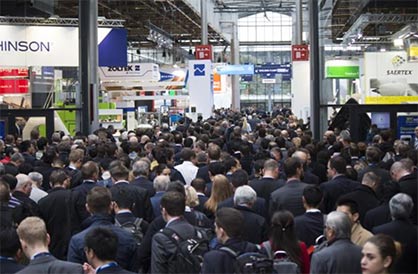 Pic: JEC World 2017 reached record attendance

2017 new services:
The high degree of interest in JEC World also lies in the fact that JEC World perpetually renews itself. "Each year, new products and services are offered to exhibitors and visitors. For instance, in 2017, the Startup Booster competition, the new planets, the electronic devices and the giant LED screen on the VIP Club, are some of our novelties and improvements that refined customer experience." comments Anne-Manuèle HÉBERT, Show Director of JEC World and European Shows.
Highligths:
JEC Group also welcomed special guests who are passionate with composites such as Greg LEMOND, champion & cycling expert, Thomas COVILLE, new solo, round-the-world record on maxi trimaran, Leilani MÜNTER, Electric GT Pilot, or Nandor FA, Vendée Globe 8th place contestant.
JEC WORLD 2017 KEY FIGURES
1,300 Exhibitors
40,607 Professional visits (+10%)
6 Conferences
53 Speakers
2 Halls (65,000 square meters, 69,9654,18 ft2)
Related News
More News from TEXDATA International

Latest News