Cinte Techtextil China 2014
2013-08-07
Asia's leading biennial trade fair for technical textiles and nonwovens announces dates for 2014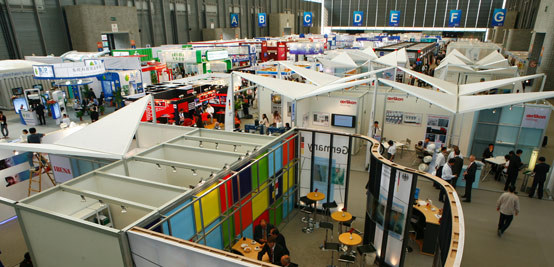 Following the success of Cinte Techtextil China in 2012, the organisers of Asia's leading biennial trade fair for technical textiles and nonwovens are confident of similar success again next year. The dates for 2014 have just been confirmed, with the event scheduled to take place from 24 – 26 September at the Shanghai New International Expo Centre.
After undertaking a programme of market research and interviews with all stakeholder groups, it has been decided that Cinte Techtextil China will be held without concurrent shows in 2014. "We believe this is the right decision to take at this time as we look to increase the professionalism of this fair," said Ms Wendy Wen, Senior General Manager of Messe Frankfurt (HK) Ltd. "This move will allow us to provide better services to our exhibitors and visitors, and increase the strength of this fair as we can focus all our efforts on a stand-alone event."
Last year's fair saw some 19,000 visitors from 62 countries and regions take part, while 437 exhibitors from 22 countries and regions participated, a 37% increase from 2010. This growth reflects the expanding importance of the domestic Chinese market. And with the technical textiles and nonwovens sector expecting continued strong growth over the next few years, with both imports and exports predicted to rise, this is the ideal time for overseas companies to enter this market or expand their current operations there.
Continued domestic growth sure to attract strong overseas exhibitor presence
According to the China Nonwovens & Industrial Textiles Association (CNITA), China's output of nonwovens will grow at a compound annual growth rate (CAGR) of 9.9% between 2011 and 2015, from 2.8 million tonnes in 2010 to 4.48 million tonnes in 2015. CNITA also report that the current major application growth areas in China are civil engineering, filtration & separation, medical & healthcare, protection, structural modification and transport. Apart from protection, each of these sectors is expected to grow by over 10% per annum until 2015.
By this stage, the annual output for each of the filtration & separation, medical & healthcare and structural modification sectors will have reached over 1 million tonnes.
These figures show just how much potential the Chinese market continues to have. According to 2012 exhibitor Mahlo GmbH of Germany, Cinte Techtextil China is the perfect platform to capture the opportunities in this market. "The China market is the future, and no doubt this show is the place to be for capturing this potential market," said Thomas Hopfl, Mahlo's Sales Director.
Belgium company, Conwed Global Netting Solutions were also satisfied. "We are meeting a lot of buyers from China and Asia here as these application sectors (nonwovens and filtration products) are growing so fast. We are planning to set up an office and factory in China to further expand our business," said International Business Development Manager, Frank Theunissen.
Apart from the products on offer, the fair will also feature a comprehensive fringe programme. Cinte Techtextil China 2012 saw the launch of some exciting new initiatives which were positively received by visitors and exhibitors alike. The Innovative Showcase Area, which displays innovative products and technologies, was one of these, and will return again in 2014. And a number of industry seminars will once again take place. More details will be announced closer to the fair opening.
Cinte Techtextil China is organised by Messe Frankfurt (HK) Ltd; the Sub-Council of Textile Industry, CCPIT; and the China Nonwovens & Industrial Textiles Association (CNITA).
To find out more about this event, please visit: www.techtextilchina.com.
Related News
Latest News Cinte Techtextil China 2014
More News from Messe Frankfurt (HK) Ltd.

Latest News