Issue 2017 / 2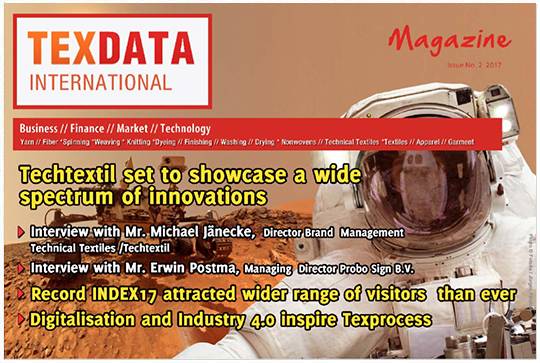 The topics are:
Techtextil set to showcase a wide spectrum of innovations
Digitalisation and Industry 4.0 inspire Texprocess
Interview with: Mr.Michael Jänecke, Director Brand Management Technical Textiles /Techtextil
Interview with: Mr. Erwin Postma, Managing Director Probo Sign B.V.
Record INDEX17 attracted wider range of visitors than ever
TexData Magazine
Ladies and Gentlemen,
the second issue of the TexData Magazine 2017 is ready for your download. It is available in English, Chinese and Spanish language.
Many thanks to our advertisers Autefa Solutions, Benninger, Brückner, Dilo, DORNIER, Groz-Beckert, Human Solutions, Interspare, ITM 2018, Karl Mayer, Monforts, Oerlikon, Rieter Premium Textile Components, SantexRimar, Shanghaitex, SIKA, Thies, Trützschler Nonwovens and Uster.
If you are already a subscriber to the TexData Infoletter or the TexData Magazine you'll get automatically an e-mail with the download-link. If you have not subscribed yet you can download the latest version of the TexData Magazine four weeks after publishing here.


Please subscribe o the TexData Magazine for receiving a download-link for the next issues automatically.
Subscribe now!
Latest News