Business
2018-02-26
Sandler AG from Schwarzenbach an der Saale achieved a 10 % increase in turnover in 2017, reporting sales of 319 million Euro. Employing a team of 820 staff members, the nonwovens manufacturer continued to expand its international position as a partner of global market leaders in construction, engineering, filtration, home textiles, hygiene, transportation and wipes.
...more
Business
2018-01-19
Oerlikon has been awarded two large orders from two of the top 10 global manmade fibers manufacturers. Both companies are located in China. The orders include Oerlikon Barmag's leading yarn spinning technology for efficient and sustainable polyester production. The two contracts have a total value of approximately CHF 540 million (Euro 460 million), and the solutions will be delivered in 2019 and 2020.
...more
Business
2018-01-18
As of January 17, 2018, EDS GmbH an international supplier of high-end extrusion tools is part of the Reifenhäuser Group. EDS is a specialist for flat dies with headquarters in Reichshof-Wenrath, North Rhine-Westphalia.
...more
Business
2017-11-27
CDL KNITS / TROPIC KNITS in Mauritius strike a new path in textile finishing. The TROPIC KNITS Group located in Mauritius is with 3.000 employees one of the biggest producers of high-quality fine knit garments in the Indian Ocean. Well-known international brands from Europe, U.S. and South Africa are among the company´s most important customers since many years.
...more
Business
2017-10-19
Within the frame of a strategic company modernization program, Kurskhimvolokno, a major Russian player in the polyamide industrial yarn industry, recently increased its capacity by more than 30%.
...more
Business
2018-01-08
Garmon Chemicals, an international provider of chemical auxiliaries, innovation and creativity for garment processing, today announced an exciting new chapter in its 30-year history.
...more
Business
2017-09-11
Electronics For Imaging, Inc. (Nasdaq:EFII), a world leader in customer-focused digital printing innovation, today announced its results for the second quarter of 2017.
...more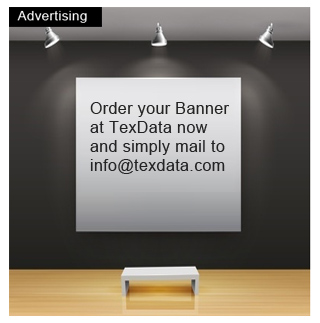 Older News

Business
2017-07-05
On June 30, 2017, Rieter acquired the SSM Textile Machinery Division (SSM) from Schweiter Technologies AG, Horgen (Switzerland).
...more
Business
2017-06-21
AMSilk GmbH, the world´s first industrial supplier of synthetic silk biopolymers, today announced that its quality management system for the first time has received certification according to DIN EN ISO 13485:2016 by the TÜV Süd.
...more
Business
2017-06-15
As markets tighten, ever-changing consumer demands and competitive pressures intensify, driving efficiency and keeping teams up and running has never been more important. Gerber has a long history of providing industry leading service and support after the initial sale of their automation solution and software products. The addition of Brandy Moore to the team will ensure the level of excellence customers expect from Gerber is maintained.
...more
News Archive