Business
2018-07-11
On Saturday, 23 June 2018 the new production facility of BRÜCKNER, the world market leader in dry finishing machines for textiles and technical textiles, was officially opened in Tittmoning, Bavaria. Representatives from politics, the church, banks and industry were present when Regina Brückner inaugurated the new, generously dimensioned production plant together with Dr. Peter Ramsauer, former Minister of Transport and approx. 800 other guests.
...more
Business
2018-06-06
Itema Group, the leading global provider of advanced weaving solutions, including best-in-class weaving machines, spare parts and integrated services, announced its results for the first quarter of 2018, once again confirming the Group constant growth over the past few years. The turnover amounted to €80.5 million in the first quarter of 2018, increasing by +15% compared to same period last year.
...more
Business
2018-05-24
Oerlikon announced today that the company will continue to align their Manmade Fibers Segment product portfolio with the future of innovative Industry 4.0 plant solutions putting greater focus on their core business of filament, staple fiber and nonwovens. As a result, the corporate group will divest their technology solutions for tape and monofilament plants.
...more
Business
2018-02-26
Sandler AG from Schwarzenbach an der Saale achieved a 10 % increase in turnover in 2017, reporting sales of 319 million Euro. Employing a team of 820 staff members, the nonwovens manufacturer continued to expand its international position as a partner of global market leaders in construction, engineering, filtration, home textiles, hygiene, transportation and wipes.
...more
Business
2018-01-19
Oerlikon has been awarded two large orders from two of the top 10 global manmade fibers manufacturers. Both companies are located in China. The orders include Oerlikon Barmag's leading yarn spinning technology for efficient and sustainable polyester production. The two contracts have a total value of approximately CHF 540 million (Euro 460 million), and the solutions will be delivered in 2019 and 2020.
...more
Business
2018-01-18
As of January 17, 2018, EDS GmbH an international supplier of high-end extrusion tools is part of the Reifenhäuser Group. EDS is a specialist for flat dies with headquarters in Reichshof-Wenrath, North Rhine-Westphalia.
...more
Business
2018-01-08
Garmon Chemicals, an international provider of chemical auxiliaries, innovation and creativity for garment processing, today announced an exciting new chapter in its 30-year history.
...more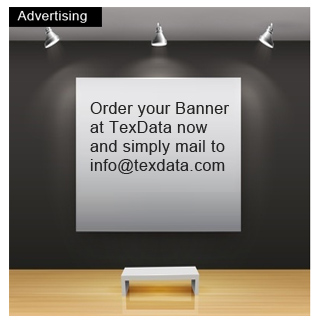 Older News

Business
2017-08-09
Global economic confidence has improved markedly over the past few quarters, with stronger trade, robust demand, and upturns in industrial and capital investments. The upward trend in investments was noted in practically all of Oerlikon's key end markets, such as aerospace, automotive, general industries, tooling, filament equipment, agriculture, construction and transportation, all of which have contributed to the Group's strong performance.
...more
Business
2017-08-08
In another defining acquisition to strengthen its presence in the country, Messe Frankfurt India Trade Fair Pvt Ltd, the Indian subsidiary of one of the world's leading trade show organisers, Messe Frankfurt Exhibition GmbH, announced that it has acquired the rights of Screen Print India.
...more
Business
2017-07-20
Due to increasing demand since March 2017, Rieter posted order intake of CHF 495.2 million in the first half of 2017. This was 3% below the previous year's level (first half year 2016: CHF 510.7 million) and with an increase of 26% was well above the second half of 2016 (CHF 394.5 million). At CHF 415.2 million, sales were 5% down on the previous year (first half year 2016: CHF 436.9 million).
...more
News Archive