Exhibitions & Events
2018-08-09
In April 2018, a Memorandum was signed between Iteca Exhibitions the International Exhibition Company and recently established Uzbekistan Textile and Garment Industries Association on joint organization in September 5-7, 2018 of the 1st International Uzbek Textile and Fashion Industries Exhibition - UzTextile Expo in Tashkent.
...more
Exhibitions & Events
2018-07-27
Leading computerized knitting machine manufacturer SHIMA SEIKI MFG., LTD. of Wakayama, Japan, together with its sales representative in India VOLTAS LIMITED, will participate in the 4th India International Footwear Fair in New Delhi, India next month.
...more
Exhibitions & Events
2018-07-25
Adorned with the most attractive collections from 165 exhibitors and more than 300 brands, Ambiente India and Heimtextil India put on a spectacular show this June attracting 7,059 trade buyers and design professionals. The co-located platforms have earned a repute among buyers for quality product sourcing and its business-focused design content.
...more
Exhibitions & Events
2017-11-27
The 18th International Exhibition on Textile Industry (hereinafter as "ShanghaiTex 2017"), the prime biennial event of the industry is unveiled monday (27 November) at Shanghai New International Expo Centre, Pudong, Shanghai, PR China. Based on the sound achievement accumulated in the previous editions, ShanghaiTex 2017 will extend its success to some cross-boundary technology segments.
...more
Exhibitions & Events
2017-06-21
ColorJet has created a home environment at its stall no H370 in hall 12 at the ongoing Heimtextil 2017 exhibition in New Delhi. Products on display include bedsheets, pillow cover, curtains, table covers, etc.
...more
Exhibitions & Events
2017-12-07
Global Textile Technology & Engineering Show (GTTES 2019) well received as its first edition is opening its booking on 4th December, 2017 for 2nd edition to be held from 1st – 3rd February 2019 at Bombay Exhibition Centre, Goregaon, Mumbai.
...more
Exhibitions & Events
2017-06-20
Asia's yarn and fibre market is going through a period of substantial change at present, and Yarn Expo is at the heart of it all. The leading trade platform in the region will more than double in size this October, expecting its exhibition space to expand by 115% as more companies recognise its effectiveness to mirror the latest industry trends as well as attract a truly global audience: last year's autumn edition drew trade buyers from 77 countries & regions. Around 400 companies, up from 319 last year, are predicted to exhibit this edition.
...more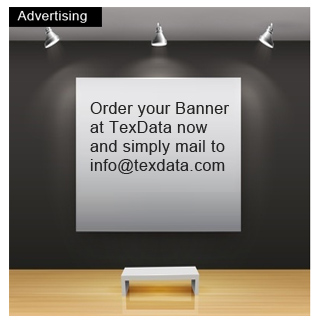 Older News

Exhibitions & Events
2017-06-13
Unveiled 13th of June at Yiwu International Expo Centre, Zhejiang Province, PR China, the 18th China Yiwu International Exhibition on Textile Machinery (YiwuTex 2017) covers an exhibition area of over 13,200 sqm and attracted more than 160 textile machinery exhibitors to showcase their latest machinery and technology on knitting, hosiery, sewing, garment and digital printing.
...more
Exhibitions & Events
2017-06-08
Multi-material systems and hybrid components are setting the trends in lightweight construction right now. And from 19 to 21 September, COMPOSITES EUROPE 2017 in Stuttgart will show how this is benefiting composites. Some 400 exhibitors will put on display the potential of fibre-reinforced composites in the automotive engineering, aerospace, boatbuilding, wind energy and construction sectors.
...more
Exhibitions & Events
2017-06-07
Thanks to him, finding the way to Techtextil was easy. However, the 10‑metre tall astronaut at the entrance to Frankfurt Fair and Exhibition Centre cannot have been the only reason that a record number of over 33,670 visitors from 104 countries (2015: 28,491 visitors from 102 countries[1]) made their way to Techtextil from 9 to 12 May 2017.
...more
News Archive