Spinning
2017-12-11
With effect from January 1, 2018, Roger Albrecht was appointed Managing Director by the Board of Directors of Spindelfabrik Suessen GmbH, Germany.
...more
Spinning
2017-12-07
Toyota Industry Corporation, Japan, and Trützschler GmbH & Co. KG, Germany, had started in 2010 a successful cooperation with a joint development of a new combing machine - the TCO12 - which was exhibited at the ITMA Asia in Shanghai 2012 first time.
...more
Spinning
2017-11-21
As of December 1, 2017 Alphalex Ltd. will act as sole agent for SSM Schärer Schweiter Mettler AG in the United Kingdom (UK) and in Ireland.
...more
Spinning
2017-11-09
Saurer Group will proudly present its full range of new technologies in fiber processing from raw material to a multitude of yarns during the upcoming Shanghaitex 2017. The product range further includes different finishing processes. Shanghaitex will take place from the 27th until 30th of November in the premises of the Shanghai New International Expo Center / Pudong. For Saurer it will be yet another opportunity to present the group as the partner of choice along the textile value chain with its full product range.
...more
Spinning
2017-11-08
One of the top ten spinning mills in China, Texhong Group has grown steadily since its establishment in 1997, building a reputation for high value-added products in challenging market sectors such as core-spun yarns, as well as grey fabrics and fashion materials. The group's strong quality ethic is the basis for its progress in the production of yarns for bleached fabric, where defect-free standards are absolutely critical. Here, the unique USTER 'dual control' approach to removing cotton contamination at both blowroom and winding machine has delivered remarkable results.
...more
Spinning
2017-11-02
"We are pleased to announce another quarter of profitable growth," said Dr. Roland Fischer, CEO of Oerlikon Group. "Our positive performance confirms that our strategy addresses attractive markets, our initiatives and activities are delivering positive results, and we are able to take advantage of the growth momentum and opportunities in our end markets. Consequently, we are in a position to increase our full-year expectations for the second time this year."
...more
Spinning
2017-11-01
Since 1911, Savio is specialized in the yarn-finishing segment, being the leading supplier of winding, twisting and rotor spinning machines, with manufacturing plants spanning over Italy, China, India and Czech Republic. As a manufacturer of textile machinery, Savio offers winding systems that are ideal for many different needs, supporting customers in the textile challenge of developing new applications to meet their requests.
...more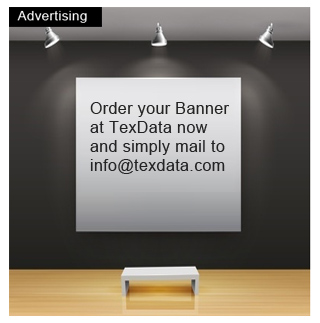 News of the last month
Spinning
2017-10-04
SSM Schärer Schweiter Mettler AG attended two exhibitions in September: Irantex in Tehran, Iran and CAITME in Tashkent, Uzbekistan. Visitors had been impressed about the provided SSM solutions.
...more
Spinning
2017-09-20
Dr. Bernd Kunze and Mr. Karsten Kratz have been appointed to the Management Board of Reifenhäuser Holding with effect from July 1, 2017. As Chief Technology Officer (CTO), Dr. Kunze will take charge of all technological issues within the Group, and in this role, will share responsibility for the digital transformation of the business.
...more
Spinning
2017-09-19
There is no easier way to earn money than through process reduction. Machines that are not needed require no investment and no operating costs. This applies to draw frames in rotor spinning. In modern rotor spinning, conventional draw frames are not necessary.
...more
News Archive