Yarn & Fiber
2018-03-08
According to the latest ITMF report global yarn production decreased by -0.4% between Q2/17 and Q3/17. An output reduction of respectively -3% and -0.5% in Europe and Asia have been balanced at the world level by increases of 0.5% in Africa, 4.8% in the USA, and 6.5% in Brazil. Overall, the global level of yarn production in Q3/17 is slightly lower than it was in Q3/16 (-2.4%). This downward trend is expected to be observed in the fourth quarter due to negative forecasts in the Asian market.
...more
Yarn & Fiber
2018-03-07
As the global textile industry converges on Shanghai next week for five concurrent international textile fairs, the yarn and fibre sector's attention will be on hall 5.1 of the National Exhibition and Convention Center – the location of Yarn Expo Spring. A new record will be set with around 435 exhibitors from 10-plus countries and regions – including China, Hong Kong, India, Indonesia, Korea, Pakistan, Singapore, Thailand, Uzbekistan and Vietnam – featuring a full spectrum of quality and innovative yarn and fibre products.
...more
Yarn & Fiber
2018-02-26
The association of the North-East German Textile and Clothing Industry will be present at SALTEX 2018 with a joint booth of its members - Leading associations and industrial companies confirmed once more their participation at the upcoming SALTEX September 12 - 13, 2018
...more
Yarn & Fiber
2018-02-26
Beaulieu Fibres International, the leading European polyolefin fibre producer, is once again the proud recipient of a "Distinguished Supplier" European Supplier Award from Yanfeng Automotive Interiors (YFAI). It is the second year in succession that the global leader in automotive interiors has recognised the significant expertise and support provided by Beaulieu Fibres International.
...more
Yarn & Fiber
2018-02-15
Teijin Frontier, the Teijin Group's fibers and products converting company, announced its development of SOLOTEX® Nanofiber, a polytrimethylene terephthalate (PTT) nanofiber with a diameter of 700nm that combines excellent gripping power with stretchable comfort for high-performance gloves, sportswear and innerwear.
...more
Yarn & Fiber
2018-03-07
The Bavarian Viscose speciality fibre manufacturer Kelheim Fibres has earned the U.S. Department of Agriculture (USDA) Certified Biobased Product label. The products DANUFIL®, GALAXY® and VILOFT® are now able to display a unique USDA label that highlights their biobased origin.
...more
Yarn & Fiber
2018-02-22
Luxury Jersey, a high-quality Italian product that benefits from the textile culture of the Boselli family, announces the debut of two unique fabrics at the Paris fair. Both boast a high creative and technical content and are intended for stylists and fashion houses in the luxury segment. They also offer a strong sustainable component.
...more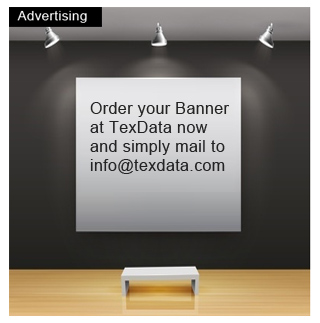 Older News

Yarn & Fiber
2018-02-15
Birla & Sateri Pavilions return again - Next month's Yarn Expo Spring will provide buyers with numerous sourcing options that match current industry trends: the rise of innovative synthetic & specialty yarns and increasing demand for eco-friendly products.
...more
Yarn & Fiber
2018-02-15
The Lenzing Group (Lenzing) today redefined TENCEL™, as its textile premium brand at Première Vision Paris. The redefining of the TENCEL™ brand is a key milestone of Lenzing's new brand strategy to enhance product brand offerings, foster connection with customers and consumers, and drive consumer demand.
...more
Yarn & Fiber
2018-02-14
Interview with World Kickboxing Champion Marie Lang and Nilit´s Vice President of Global Marketing Pierluigi Berardi.
...more
News Archive