Exhibitions & Events
2017-11-27
The 18th International Exhibition on Textile Industry (hereinafter as "ShanghaiTex 2017"), the prime biennial event of the industry is unveiled monday (27 November) at Shanghai New International Expo Centre, Pudong, Shanghai, PR China. Based on the sound achievement accumulated in the previous editions, ShanghaiTex 2017 will extend its success to some cross-boundary technology segments.
...more
Exhibitions & Events
2017-06-21
ColorJet has created a home environment at its stall no H370 in hall 12 at the ongoing Heimtextil 2017 exhibition in New Delhi. Products on display include bedsheets, pillow cover, curtains, table covers, etc.
...more
Exhibitions & Events
2017-06-20
Asia's yarn and fibre market is going through a period of substantial change at present, and Yarn Expo is at the heart of it all. The leading trade platform in the region will more than double in size this October, expecting its exhibition space to expand by 115% as more companies recognise its effectiveness to mirror the latest industry trends as well as attract a truly global audience: last year's autumn edition drew trade buyers from 77 countries & regions. Around 400 companies, up from 319 last year, are predicted to exhibit this edition.
...more
Exhibitions & Events
2017-06-20
At the upcoming edition of CAITME, to be held in Tashkent, Uzbekistan from September 13 to September 15, 2017, 16 Italian textile machinery manufacturers will exhibit in the common area set up by the Italian Trade Agency and ACIMIT.
...more
Exhibitions & Events
2017-06-19
This week's China International Nonwovens Expo & Forum (CINE, supported by Techtextil) is, like the technical textiles industry in China as a whole, continuing to benefit from the government's 13th Five-year Plan which has boosted production capacity and demand for nonwoven products in the country.
...more
Exhibitions & Events
2017-12-07
Global Textile Technology & Engineering Show (GTTES 2019) well received as its first edition is opening its booking on 4th December, 2017 for 2nd edition to be held from 1st – 3rd February 2019 at Bombay Exhibition Centre, Goregaon, Mumbai.
...more
Exhibitions & Events
2017-06-15
ITV Denim, among the most renowned Italian denim mills, has been selected to participate in the special edition of "Global Denim Awards Italian/Dutch Edition", scheduled from June 17th to 23rd at Triennale di Milano space.
...more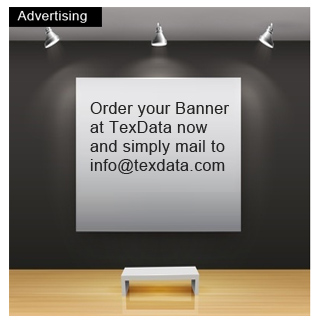 Older News

Exhibitions & Events
2017-06-07
Creativity meets high-tech – a few words that perfectly sum up the atmosphere at this year's Texprocess from 9 to 12 May. 312 exhibitors from 35 countries (2015: 273 from 33 countries ) presented their latest developments for processing textile and flexible materials to 13,718 visitors from 109 nations (2015: 13,335 from 94 countries). With 14 percent more exhibitors and 2.9 growth on the visitor side, this was the biggest ever Texprocess.
...more
Exhibitions & Events
2017-06-07
UCMTF invited the press during Techtextil (Frankfurt, May 2017) to present French Textile Machinery Manufacturers' partnerships with their customers to identify the textile producers' technological needs to design and develop innovative textile products, how the best solutions could be found, and the necessary tests of both the machines and the textile new products.
...more
Exhibitions & Events
2017-05-11
Inspiring architecture: eight international projects to receive awards in the 'Textile Structures for New Building' competition. Techtextil competition for students honours air-inflated halls, tents for refugees, concrete textile and smart façade elements.
...more
News Archive