ITM 2013
2013-05-17
Leading computerized knitting machine manufacturer SHIMA SEIKI MFG., LTD. of Wakayama, Japan will exhibit at ITM Texpo Eurasia 2013 in Istanbul, Turkey.
ITM 2013
2013-05-17
ITM Texpo Eurasia 2013 takes place in Istanbul, Turkey, from May 29th to 1st of June, 2013. The international trade fair brings together well-known companies of the textile technology already for the 5th time. As one of the leading provider Groz-Beckert will present its comprehensive and innovative product line for the production and joining of textile fabrics. You are welcome to visit Groz-Beckert in hall 12, booth 1209.
ITM 2013
2013-05-16
Turkey is one of the most important textile producing countries of the world and is considered to be the textile powerhouse in Europe as well as being sometimes described as the China of Europe which certainly refers to its relatively low wage costs for European standards and high economic growth over a number of years.
ITM 2013
2013-05-16
You should have only read this preliminary report on ITM Texpo Eurasia in 2014 as the next trade fair planned for this year was to be in Istanbul. News however had reached us in July, three months after the very successful trade fair in 2012, from the event organisers Teknik Fuarcılık Yayıncılık, Reklamcılık, Danışmanlık Tic. Ltd. Şti. and Tüyap Tüm Fuarcılık Yapım A.Ş. that the most important exhibition for the Turkish textile industry had been brought forward to 2013.
ITM 2013
2013-05-15
Many carpet weaving machines of the Innovator generation have been installed worldwide, weaving different qualities in cut pile, loop pile, shaggy, sisal look,… in different widths. Especially the width of 5m is very much appreciated, giving optimized combinations of area rug dimensions. Van de Wiele (Hall 8 – Booth 816) has 5 years of industrial experience with more than 250 machines weaving in 5m width worldwide.
Some impressions from the ITM Texpo Eurasia 2012 in Instanbul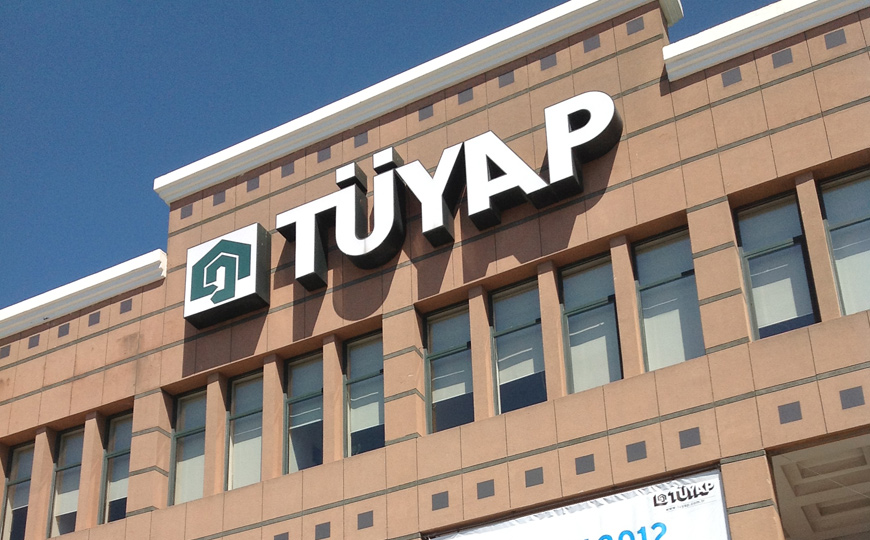 The ITM Texpo Eurasia took place from 20.-24.April at Tüyap fair convention center in Istanbul.

Older News

ITM 2012
2012-05-03
Organized with the cooperation of TÜYAP Fairs and Exhibitions Inc. and Teknik Fairs Limited and supported by the Association of Textile Machinery and Accessory Industrialists (TEMSAD), ITM Texpo Eurasia 2012 – the 29th Textile, Weaving, Yarn, Treatment, Knitting, Embroidery and Hosiery Machinery, Components and Chemicals Fair was held between April 21 and 24, 2012 at the TÜYAP Fair and Convention Center, Buyukcekmece, Istanbul.
ITM 2012
2012-05-02
Turkey, as the link between Europe and Asia, was again this year venue of the ITM Texpo Eurasia. Rieter presented to customers from Turkey and the Middle East its complete range from the fiber to the finished yarn. The mood of the market is positive – signs indicate growth in the Turkish textile industry.
ITM 2012
2012-04-12
Marzoli has embarked on a new design philosophy. They said, that their efforts must go through the innovative integration of new technologies to expand the applications.
News Archive