Weaving
2018-08-06
Highsun has made a name for itself as one of the world's largest company groups specialising in the polymerisation and spinning of polyamide and in the production of spandex. The Chinese group focuses on high-quality products and on new innovations. Providing effective support for its end customers in the polyamide and elastane fibre production chain is also important for this synthetic fibre specialist.
...more
Weaving
2018-08-01
Sustainability and environmental protection are becoming increasingly important in textile production – and this also applies to the production of warp-knitted terry fabrics. These fluffy, absorbent fabrics are absolutely indispensable for the bathroom and home, and are used in huge volumes all over the world. This means that ecological optimisation, carried out along the entire production line, has obvious effects.
...more
Weaving
2018-07-25
Stäubli Textile will be presenting its machinery range and latest solutions at two inviting booths at this year's ITMA Asia. The range of products covers solutions for weavers and knitters including a world premiere in warp beam preparation
...more
Weaving
2018-07-13
Stäubli will be among the exhibitors when the Exintex trade fair opens its doors in Puebla, Mexico this October. This major business platform for the Latin American textile industry is taking place within a challenging economic environment. For weaving and knitting mills to remain competitive, they must find ways to boost productivity and efficiency.
...more
Weaving
2018-06-27
Stäubli, leading global provider of high-quality automated systems and solutions for the weaving industry, will be presenting its product range this August at Febratex, Brazil's largest trade fair for the textile industry. Visitors to the booth will have the chance to find out how Stäubli's solutions for workflow automation, automated weaving preparation, and shedding for frame and Jacquard weaving can enhance their mill operations. Stäubli's state-of-the-art weaving and knitting technologies enable weaving mills to efficiently and cost-effectively produce high-quality fabrics of all sorts for a wide range of applications.
...more
Weaving
2018-06-13
The market for technical textiles is steadily growing since several years. Typical applications include the production of fabrics for airbags, tire cords, filtration materials, architectural fabrics, sailcloth, and many others. The quality requirements for many of these fields – especially for safety-critical applications – are very high. The challenge for weaving mills is the production with zero-defects.
...more
Weaving
2018-06-06
Itema Group, the leading global provider of advanced weaving solutions, including best-in-class weaving machines, spare parts and integrated services, announced its results for the first quarter of 2018, once again confirming the Group constant growth over the past few years. The turnover amounted to €80.5 million in the first quarter of 2018, increasing by +15% compared to same period last year.
...more
Weaving
2018-05-17
Loepfe Brothers Ltd. announces the appointment of Daniel Link as Chief Executive Officer with effect from May 1st 2018. Maurizio Wermelinger, the current CEO, will retire but will remain as an advisor for a limited period of time to ensure a smooth transition.
...more
Weaving
2018-05-16
From 14 to 17 April 2018 the Textile Machinery Exhibition (ITM) in Istanbul, Turkey, attracted visitors from all over the world. During the four exhibition days Groz-Beckert was delighted to welcome more than 2,000 visitors at their booth, showcasing the products and services of their product areas Knitting, Weaving, Nonwovens and Carding.
...more
Weaving
2018-05-14
The ITM trade fair for textile technology closed its doors 2018 after four days profiting from an important visitor density. Stäubli with its welcoming booth could attract many interested public, hold intensive and constructive talks and transform many visits into real business opportunities. Thus with industrials from Turkey, but as well from Eastern and Middle-east countries, though for the complete range of systems and solutions that Stäubli offers to the weaving and knitting industry.
...more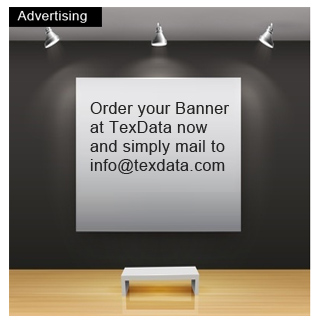 Older News

Weaving
2018-05-09
Stäubli has been one of the world's leading manufacturers of high-speed textile machinery for more than 125 years. After decades of experience as a supplier of shedding solutions for weaving machines, weaving preparation systems, and complete carpet weaving systems in the traditional textile industry, Stäubli continued its efforts in research and development to extend its product range.
...more
Weaving
2018-05-02
More than 240 customers, almost 8,500 weaving machines delivered, one globalization-induced structural transformation and a worldwide economic crisis with epicenter in the USA – in its 40 years of existence, the American DORNIER Machinery Corporation (AmDO) has certainly seen both: high points and lows. And like so many American business success stories, it all started in a small street being a name that could not have been more symbolic.
...more
Weaving
2018-04-11
On the occasion of ITM 2018 SMIT is proud to present the brand-new model of the GS900 series released after the entrance in SANTEX RIMAR GROUP: SMIT GS980.
...more
News Archive